Tuesday 15th November 2011
TIME FOR TEA? HOW TO ARRIVE IN STYLE IN A FERRARI
Want to get people falling at your feet? Learn from Alain De Cadenet...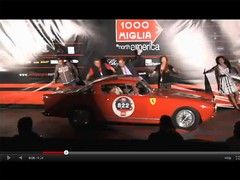 We're sure that plenty of chaps aspire to sweeping the ladies off their feet, but we suspect that this is not the way they would want to do it.
It's erstwhile sports car racer and Classic & Sports Car magazine contributor Alain De Cadenet arriving rather too enthusiastically at the ceremonial finish of the North American tribute to the Mille Miglia and with bad brakes.
Note to the organisers - stick the carpet tiles to the floor in future...