Thursday 17th November 2011
IS TEXAN US GP HANGING IN THE BALANCE?
Work stops at Austin circuit as F1 deal falters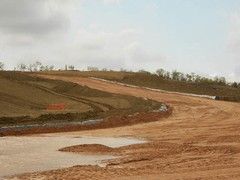 Not quite a GP track yet...
The builders of the new Circuit of the Americas track near Austin, Texas, have stopped construction after it was revealed that the deal to hold the 2012 United States GP there has not actually been done.
It seems that the race's promoters, Full Throttle Productions, have actually yet to ink a deal between themselves and Bernie Ecclestone's Formula One Management, despite the race featuring on the official 2012 World Championship calendar.
More concerning still for the circuit's owners, the MotoGP contract has not yet been signed off either. And work won't start again until a contract assuring the Formula 1 United States Grand Prix will be held at Circuit of The Americas in 2012 is complete.
"We have spent tremendous resources preparing for the Formula One and MotoGP Championship races, but the failure to deliver race contracts gives us great concern," says Bobby Epstein, founding partner of Circuit of The Americas. "We believe the United States is vital for the future of Formula One and its teams and sponsors. Given the purpose-built Tilke design, creating a unique fan experience and iconic challenge for drivers, we hope that Texas will not be left behind."