Thursday 12th January 2012
CHRIS HARRIS VIDEO: C63 AMG ON SPACE SAVERS
How much grip does a 487hp C63 AMG have on space saver tyres? Not a lot, as Harris discovers in his first video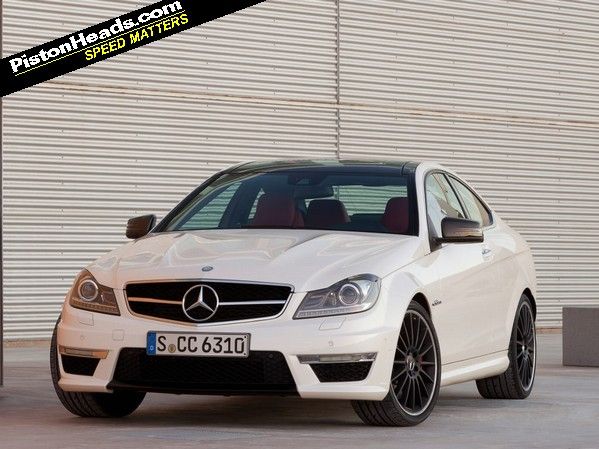 I decided on something fun for
my first video
. I would be lying if I claimed ownership of this idea, but seeing as no one else has swapped a C63 AMG's normal rubber for a set of space savers, I'm happy to be the executioner - in every sense of the word.
As is always the case with anything puerile and childish, this exercise proved far more thought-provoking than expected. Yes, running a 487hp rear-drive coupe on 125/70 tyres does shunt the handling balance somewhere towards the more infantile areas of accepted motor car behaviour. But boy was it fun.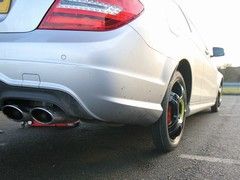 Less rubber = more fun? Chris finds out
The grown-up bit? First, the importance of rubber. Even to those of us who love cars and appreciate the subtleties of a car that runs well, the humble tyre is a pain-in-the-arse. It always seems to cost too much money, it never lasts long enough and, occasionally, it goes pop at 132mph (in Germany...). But the tyre is of course everything. It doesn't matter that AMG's engineers have lavished their skills on a C63 AMG coupe, because neither the chassis nor the powertrain can do anything without the layer of rubber which attaches said genius to the road surface. When you think of it like that, saving £40 a corner on the wrong tyres does seem a bit criminal, doesn't it?
The other point, obviously, is the concept of grip reduction. Are we at a tipping-point in the grunt-grip relationship? Toyota is currently making a deliberate statement about its GT 86 coupe only running a 215 section tyre. That's the company which hedged its future on hybrids suddenly deciding that selling white-goods doesn't capture anyone's imagination and that it needs to own the affordable driver-centric heartland. I think its timing might be spot-on, and I think projecting it through a reduction of tyre grip, as opposed to an escalation is overall velocity, is inspired. Toyota hasn't been within a hundred miles of the enthusiast zeitgeist for a decade. With the GT 86, it might have the thing in its pocket.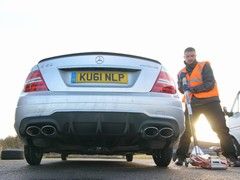 Not entirely sensible but lots of fun...
No, I don't want to be wide-eyed every time it rains, but should I have to drive a Caterham just to feel either axle move a little on the road? There's a balance to strike somewhere, and we're not there at the moment.
Lastly, I would like to recommend people run their C63 AMG on space savers but, sadly, have to advise against it. With 60psi at each corner, the ride-comfort takes a nasty hit.