Thursday 16th February 2012
NEW CATERHAM ROAD CAR - DETAILS
Emboldened Caterham looks to expand road car range with all-new road car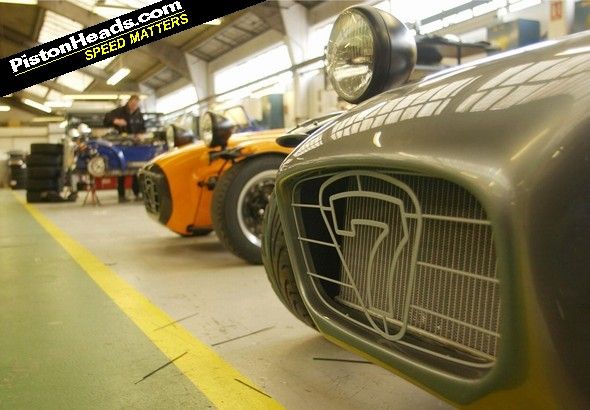 Not the new Caterham road car...
While PistonHeads was with the team during its inaugural winter testing of the Caterham CT01 F1 car Caterham MD Ansar Ali revealed that work was already underway on the new road car project.
Fans of the 7's back-to-basics driving experience shouldn't fret yet, as the new car "will still embody everything Caterham stands for," admitted Ali. That means raw, fun and basic – Caterham is even considering whether to offer a CD player.
The first all-new model in the company's history was confirmed by Ali as a two-seat sports car with a kerb weight targeted at under 1,000kg. The project will also mark a first for Caterham in that the new car's chassis will be a monocoque 'tub' constructed in-house, although using what material is yet to be confirmed.
It won't be a McLaren-rivalling carbon-fibre item due to cost, but Caterham is keeping its options open. An all-aluminium bonded chassis à la the Lotus Elise? Watch this space…
According to Ali, the new car has been "engineered primarily from the driver-out, carrying across those qualities from the 7 across to deliver an engaging experience." Second on the firm's target list is price. It'll cost between £30,000 and £45,000 – a pretty wide window, but Ali was quick to point out "above £50,000 people's expectations ramp up quickly so we want to keep it under that mark."
The new car will first break cover in coupe guise, but an open-top variant and a third high performance model (think R500) are both on the cards – although these will come after the closed car's scheduled production date in 2015. Thanks to the new platform's construction, the open car won't be hamstrung by added weight or strengthening as the coupe's roof rails won't bear any load.
Engine choice is not yet confirmed but Ali says he wants "front-engined, rear-wheel drive and normally aspirated. It's what a Caterham should be." However, the British manufacturer has not ruled out the potential of forced induction, especially after the experience of supercharging the faithful 2.0-litre Ford Duratec unit in its new SP/330.R track car.
The new car will aim to tempt drivers looking for something more raw than a Porsche Cayman or BMW Z4, but also offer traditional Caterham characteristics for existing owners looking to chop in their 7s for something with a little more refinement.
As yet, the car's name – or number – is still undecided and is something the company is keeping tight lipped about, as is the design of the vehicle.