Tuesday 26th June 2012
MONSTER 4,000HP DIESEL TO STAR AT GOODWOOD
Massive new Cummins diesel will be the most powerful engine ever to feature at the Festival of Speed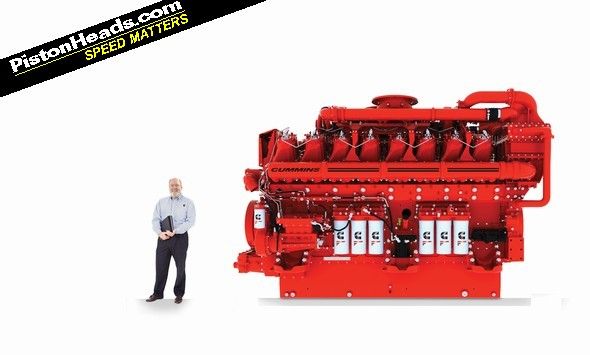 Cummins, the manufacturer of commercial diesel engines, is to showcase its brand-new QSK95 'Hedgehog' diesel engine at the Festival of Speed. But why present a diesel motor designed for commercial use at a festival that celebrates all things seriously rapid?
Because, whatever your views on diesel as a means of motive power, we reckon you'll agree that this is a monster of an engine. The vital statistics speak for themselves, really: 16 cylinders, 95 litres of swept capacity, 4,000hp and 11,800lb ft of torque. A Kia Rio 1.1 CRDi it is not...
OK, so it's perhaps not as compelling as the 3,424hp, 27.9-litre supercharged Detroit Diesel V24 we spotted last year but come on, any engine that's significantly larger than a grown man and has the equivalent power of 16 London buses has got to be pretty cool.
Hilariously, Cummins has plans for an even larger version, with four more cylinders and a power output of 5,000hp. Which just seems greedy, given that the 4,000hp version will power the likes of mining trucks capable of hauling up to 400-tonne payloads...