Wednesday 4th July 2012
TIME FOR TEA: HOT WHEELS LOOP-THE-LOOP
We had Goodwood last weekend; in LA this happened...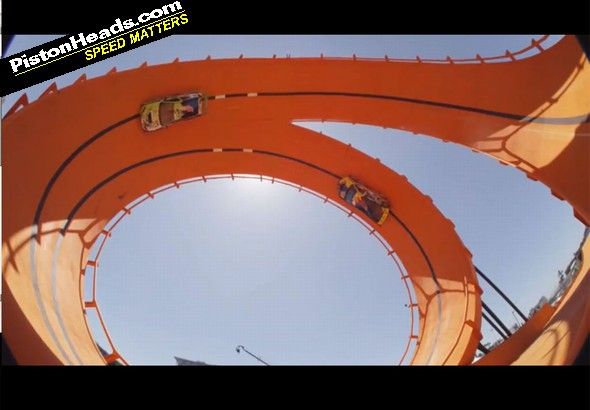 As a young boy, I devoted lots of my time to playing with Hot Wheels cars; some were smashed in my own improvised stunts or using the extra Hot Wheels toys, some were kept in a little collection that I may or may not still own… (
You do still own them, don't you Matt - Ed.
)
For those of you who have ever owned any Hot Wheels toys (hopefully a majority), you will know how hard completing a loop-the-loop was. Go too fast and the car would fly off the track; go too slow and it would roll back down, swinging back and forth interminably, mocking your lack of judgement.
But X-Games in Los Angeles over the weekend, Hot Wheels itself proved a loop-the-loop is possible; and they didn't demonstrate it with one car; they used a pair.  The two drivers, Greg Tracy (green) and Tanner Foust (yellow), were reportedly subjected to forces of 7G laterally going through the loop, but their pain certainly makes for a great stunt.
So sit back and enjoy the video, enjoy your cuppa, and get those Hot Wheels out of the loft when you get home…