Tuesday 31st July 2012
PISTONHEADS TS: MORE NEW DESIGNS.
More designs, more colours and more overtime for the shirt makers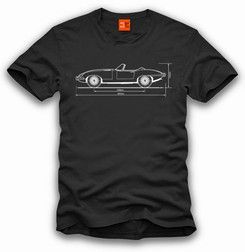 E-Type
If there was an Olympic event for T-shirt creation Team PH would win gold, and to prove that point we are proud to launch yet more designs for your wearing pleasure.
A feast of heroic cars has been added to the already extensive 'line' range, and include greats such as the McLaren F1 and original Mini. In addition we also have a new T for the PH bikers, you asked for it and we made it … we're nice like that.
We'll continue to add to the range but please suggest cars you would like to see to help us create the perfect collection. If you want it, we'll do our best to make it.
Inspired to make a purchase? All shirts are available in a range of colours and sizes (including ladies' cuts) and we also have a range of phone holders, mugs and mouse mats too. Click here to see the full PistonHeads range.
If you can imagine the theme music from Take Hart, we invite you to view our gallery.
| | |
| --- | --- |
| Cars for show... | quattro |
| 458 Italia | Range Rover |
| MGB | Mini |
| Ferrari 365GTB-4 | Phantom |