Monday 10th September 2012
MINI'S £28K GOLF GTI CHALLENGER
Another new MINI, another niche created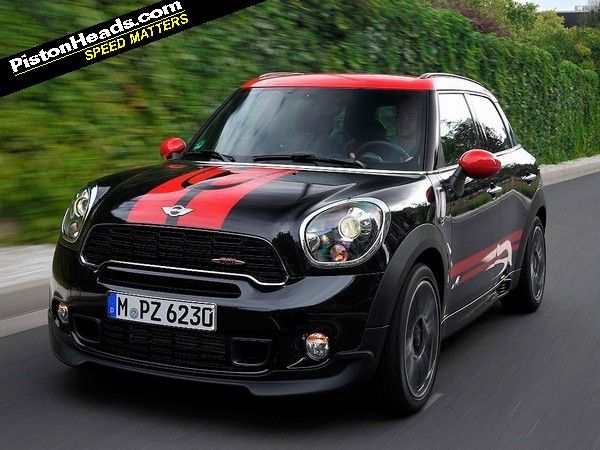 It seems to
be a day for odd new MINI models
as they have also revealed final UK information for the five-door four-wheel drive hot hatch it hopes will take on the Golf GTI. And, proving it's nothing if not ambitious, it's the now-on-sale list price of the John Cooper Works Countryman that raises eyebrows first of all: £28,595.
That's £2360 more than a five-door Golf GTI. Bold, huh? Well, hang on, reckons MINI. This, see, is not only a 218hp hatch (with the 1.6-litre turbo four-pot beating the Golf GTI by 8hp), but it's also a four-wheel drive one – and, in coming with ALL4 as standard, it becomes the brand's first four-wheel drive JCW variant.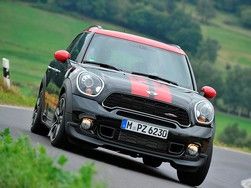 Want four-wheel drive in a hot Golf? Then you need to spend more than £32k on a 270hp Golf R. Which means you could argue the MINI slots directly into the gap between them.
The John Cooper Works Countryman is fast enough to match the GTI on performance, with 0-62mph taking 7.0 seconds and torque level-pegging the Golf on 207lb ft. The unashamedly retro-influenced shape (and, presumably, four-wheel drive drag) does see it top out 9mph down on the Golf though, at 140mph.
Suspension is 10mm lower than a Cooper S, with stiffer springs and dampers, while the anti-roll bars are also bigger. MINI's painted the brake calipers red and also fitted "extra-lightweight" (forged?) 18-inch wheels as standard, with 19"s optional. Oh, and there's an aero kit compromising new front and rear aprons plus bigger side skits, although as figures aren't quoted, we can't imagine it's as effective as last week's MINI John Cooper Works GP.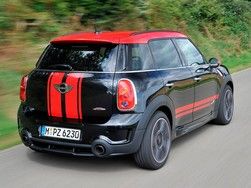 It certainly 'aint as subtle as a Golf GTI, though. There are John Cooper Works badges on the grille and bootlid, red flashes for the indicator surrounds, optional sports stripes, even a unique red contrast paint finish for the roof. Seven colours are offered, with a choice of three clashing bonnet stripes if you wish.
Inside, you're also in no doubt it's a hot hatch MINI, with sports seats and steering wheel, Golf GTI-inspired black rooflining, tinted speedo and rev counter dials plus piano black strips for the dash.
Sports seats are optional: they come with Lounge Leather finished in, yes, 'Carbon Black Championship Red' with matching Chili Red interior trim strips. It does offer a choice of four- or five-seat rear bench though, and here's the rub: in offering yet another JCW variant, MINI's expanding the reach of the brand yet further, in an arguably more convincing way than the MINIs Coupe and Roadster. After all, where does the Cooper S and JCW hatch fan go when they have a family and need five doors plus some semblance of boot space? Why, probably a Golf GTI. Until now..?