Wednesday 12th September 2012
PEUGEOT'S ONYX V8 SUPERCAR CONCEPT UNVEILED
1100kg Paris show star promises 600hp from 3.7-litre carbon chassis mounted diesel V8.
Peugeot is quick to admit its fascination with supercar concepts: it name checks Quasar,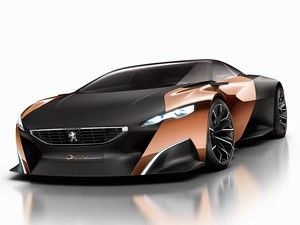 Proxima, Oxia and 907 in the very first sentence of the press release reveals its Paris Motor Show star car. This new one, called Onyx is the most radical yet, though - a 600hp 3.7-litre V8 mid-engined diesel hybrid car with a carbon fibre chassis and a kerb weight of just 1100kg
There's more: KERS-style brake energy harvesting delivers and extra 80hp under acceleration, via lithium ion battery-powered electric motor. The flat carbon fibre floor generates ground effect, so minimising external wings. There's a op-up rear airbrake. Discs are carbon composite all round while both the rear-drive engine and the double wishbone suspension with inboard control are both designed by Peugeot Sport (the engine's basically a road-going version of the old 908 Le Mans racer).
Then there's how Peugeot's McLaren MP4-12c challenger looks. The Onyx is every inch the supercar: It's low, wide, muscular and chiseled, has a NACA duct on the roof, a double-bubble design behind it, exposed carbon fibre structure and, yes, a transparent engine cover (made, like many other parts, from composite PolyMethyl MethAcrylate - PMMA). It's even decked out in real copper trim, which will purposely age over time.
The doors have clever and complex gullwing-style operation, while the cabin is boldly proportioned, simply designed and finished in rich new materials. Impressively it's all formed from a joinless one-piece pod, creating a cocoon effect but still exposing the 12-piece carbon chassis (which, remarkably, weighs just 100kg). Like a racing car, there are no actual seats, just pieces of carefully positioned felt.
The interior designer, Julien Cueff, says he was inspired by an egg box.
The engine is started via an aluminium toggle in the roof and the tiny steering wheel has an F1-style digital readout. Rather sweetly, the fuel 'gauge' is made of blown glass with the fuel level marked by chiseled marks. And the dashboard itself is made from 'Newspaper Wood' - or recycled newspapers, as it is also known... Look closely enough, and you can still read the printed characters.
So what's the Onyx all about then? As always with these Peugeot supercars, to showcase a new design direction, which may eventually filter through into road cars, plus display some of the new materials and techniques Peugeot's been working on. Most importantly, it's a confidence-builder: Peugeot is losing money and morale in the firm is a little low. What better way to lift it with a fantastic futuristic Ferrari 458 Italia challenger at your home show?