Wednesday 20th March 2013
IAN COOK: PH MEETS
We catch up with 'that bloke who paints with remote control cars' on a very PH commission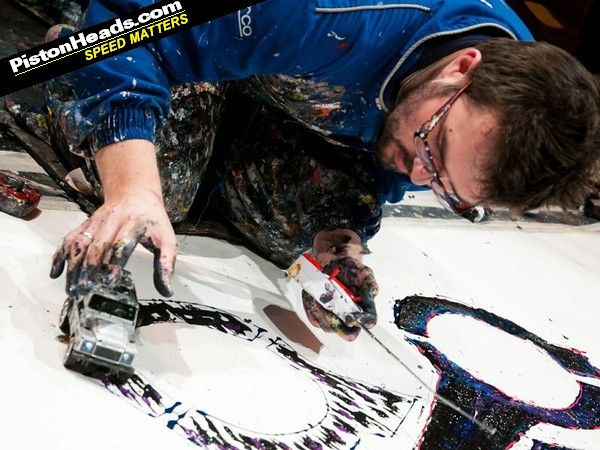 Mixing cars with art is always a slightly tricky thing to do. Get it right, and you can end up with such icons as BMW's
art cars
– but get it wrong, and it's not hard to end up with an amateurish sketch that looks a little like a heap of old scrap metal.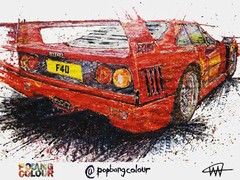 Ian's work has earned him plenty of notoriety
So it's a brave man who opts to forge a career out of automotive art. Ian Cook is one such man. You may well have heard of him already; after all, he's been featured on a selection of TV programmes, radio shows, magazines and websites. Such fame isn't often accorded to painters of cars, but Ian's unique style – and the spectacular automotive artwork that has resulted – have caught many people's attention. You see, Ian paints not with brushes, but with the wheels of remote-controlled cars.
"I've painted with cars since 2007," he says. "I was given a radio controlled model of Lightning McQueen from the film Cars as a Christmas present by an ex-girlfriend, and I was told not to take it down the studio, and not to get paint on it. So... well, I listened to a little bit of that advice!"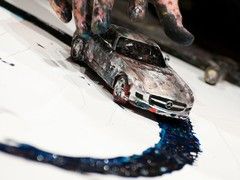 Method took trial and error to get right
"I started to experiment to see what could be done with cars. I strapped paint pots to the roofs, attached pens to the back of them, painted the wheels – you name it. I soon worked out the best way to paint the artworks was to apply the paint to the paper and let the car drive through it.
"I've never really been a 'traditional' artist," he adds. "I can paint with a brush - but haven't since 2005. My final degree piece was constructed of hundreds of die-cast toy cars individually cut up and reconstructed into a sculpture based on colour - it took 6 months to create." So, cars are undoubtedly a recurring theme, then? "Yeah, I've always been a car enthusiast and motorsport fan," Ian explains. "Initially I wanted to work within the car industry, and at school I wanted to be a car designer. For me cars are the thing I get maximum enjoyment out of."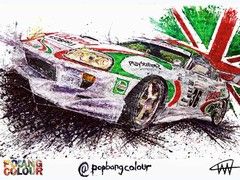 Motorsport images are often Ian's inspiration
How does Ian decide which cars to paint, then? "For action shots or motorsport images I have a number of photographer friends who are in the industry who are able to help me source a photo of a particular car if required. If I'm working for a manufacturer or team, they often have press shots of their cars too." And in the case of the PH Smiley that Ian created at
Autosport International
, of course, he had the image ingrained on his memory. Good lad.
So, he's taken the UK by storm with his art; he's made it onto TV, into the press, and even onto the heady heights of our front page. What's next? "Recently the Pop Bang Colour Shopopened, so that prints can be purchased online. Over time, this will expand with more products available as Pop Bang Colour merchandise.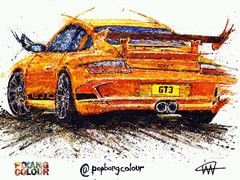 Ian's shop now sells prints online
"I really enjoy creating car wraps and working with a designer to produce them. They're all very individual – but not all driven by me – so it's great to have these cars with my artwork on them too. I'd like to do an actual racing car livery at some point, too."
Bringing cars into the art world – and doing so convincingly – isn't easy. But Ian appears to have pulled it off with great success. Among so many other automotive artists, he's managed to stand out from the crowd with work that, thanks to the remarkable way in which it's created, seems to explode off the canvas. Colour, you might say, which pops and bangs just as much as its subjects.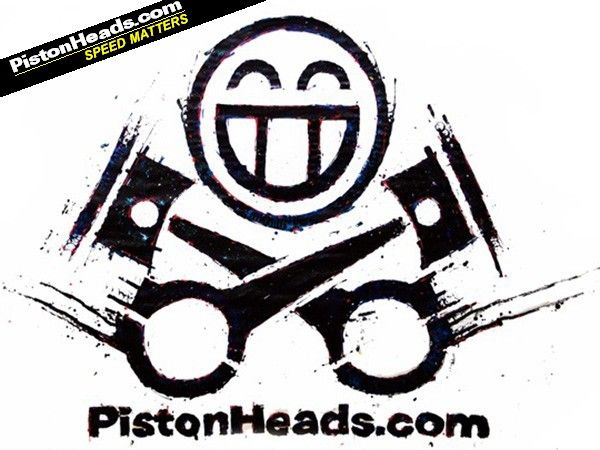 You can learn more about Ian online, on Facebook or on Twitter.
Images (c) Ian Cook / Vicki Isted Photography