Friday 25th July 2014
PORSCHE SAVES KYALAMI RACE TRACK
Winning bid of £11.5m submitted by Porsche boss on his mobile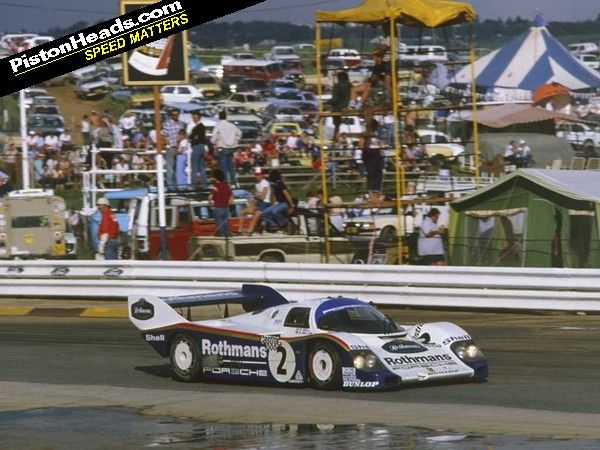 Fans of classic race tracks never like to hear of one with as much history as South Africa's Kyalami going up for sale - especially when property developers are waiting for the gavel to drop so they can signal the bulldozers. Fortunately, courtesy of Porsche, this won't be the case for the Johannesburg circuit.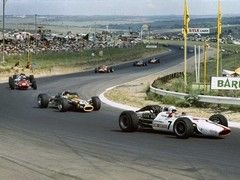 Surtees' Honda leads pack at Kyalami in '68
After Kyalami's owners couldn't get together the cash to keep the facility in business, the track was auctioned off yesterday with at least 10 bidders vying for Lot 25 at the auction. With a reserve of 200 million Rand - around £11.2 million - each bidder had to lay down a four million Rand deposit (£225,000) just to get the right to wave their hand in the air.
The auction didn't last long though, and the winning bid actually came by phone. The bidding ended just one minute and 50 seconds after it started, with Porsche picking up Kyalami for a relative snip at just five million Rand over the reserve price - or £11.5 million in total.
The man on the other end of the line was today revealed to be Porsche South Africa CEO Toby Venter, who couldn't be there in person as he was attending the Macan launch in Cape Town. Well, at least you can't accuse him of not getting his hands dirty...
According to Porsche SA spokesperson, Christo Kruger, the race track will most definitely remain as such. "Porsche SA has purchased Kyalami and it will be preserved as a race track going forward."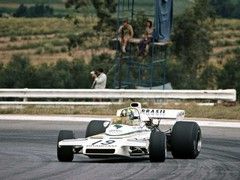 Fittipaldi's Brabham laying down rubber in '73
Kruger also outlined further details on Porsche's potential plans will "follow in time", but with the firm's expansion of its experience centres - including confirmed proposals for a Porsche
driving centre at Le Mans
- there's a strong possibility Kyalami will be next in line to get this treatment.
It figures, too. With a - ahem - "new" Cayenne launching this week and the Porsche 991 GT3 RS also spied testing, it'd only be logical to christen the venue with a couple of product launches.
Off-roading in the scrubland with the Cayenne, and setting a real, old-school track alight like Kyalami in what has the potential to be the best Porsche ever - Mr Venter, if you're listening...
[Photos: LAT Photo; lead pic shows the Bellof/Bell Porsche 956 in action at Kyalami in December 1983]