Monday 7th December 2009
SILVERSTONE GETS BRITISH GP BACK
Flagship race is back on at the 'home of British motor sport'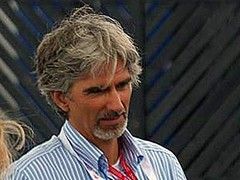 BRDC boss Damon Hill at 2008 British GP
The British Grand Prix will return to Silverstone next year after the circuit's owners signed a 17-year deal with Bernie Ecclestone.
The 2010 race will be held at the Northamptonshire circuit on 11 July next year after Donington Park, which had been set to host the British GP for the next decade and a half, failed to raise sufficient funds for the redevelopment of the East Midlands circuit.
The deal between the British Racing Drivers' Club (BRDC), the owners of Silverstone, and F1 commercial rights holder Bernie Ecclestone, will involve a significant redevelopment of the circuit. This will be focused on rebuilding the pit and paddock areas.
The deal is said to be worth more than £300 million, and Ecclestone is understood to have foregone up to £60m in fees.
"The title of Silverstone as home of motorsport has come true," said BRDC president Damon Hill. "It is a place for all motorsport. Everyone in the BRDC loves motorsport and we are looking forward to the MotoGP as well as the British Grand Prix.
"It is not easy to enter into a contract of this magnitude and you have to take on a lot of responsibility, but the BRDC wanted this relationship to continue. Everyone was well aware that the British GP is not just a sporting event, but it is the dynamo of the industry in this country. Losing it would have been damaging and perhaps there would have been no coming back."