Tuesday 2nd March 2010
DRIVEN (VIRTUALLY): LOTUS 414E HYBRID AT GENEVA
PH samples the 'paddle-shifted V12' technology concept from Lotus Engineering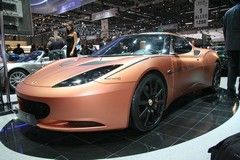 If the latest slew of electric and hybrid powered concepts makes you doubt whether the future of motoring will be any fun at all, we're happy to say we've just 'driven' the new Lotus Evora 414E - and we're grinning from ear to ear.
We posted details of the new Lotus concept last week, but if you need a quick recap the 414E is powered by two electric motors - one for each rear wheel - with a couple of batteries and a simple three-cylinder 'range extender' i/c engine designed to charge the batteries at its fixed operating speed of 3,000rpm. Built into a lightweight Evora body, the total package weighs in around 1400kgs and is thus only 50kgs heavier than the standard Evora.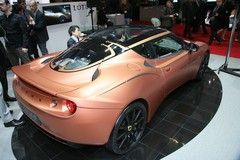 So far, so politically correct, but this is a Lotus. On top of its highly efficient and potent drivetrain, the car has two intriguing additions designed to significantly enhance the driving appeal for us dyed-in-the-wool petrolheads. HALOsonic engine noise synthesis, and a paddle-shifting system that 'interferes with' the usually seamless electric power delivery to replicate the feel and performance of a seven-speed gearbox.
We've talked about HALOsonic before, but today was our first chance to hear it working and we're frankly surprised at just how convincing it sounds. The show concept is wired for sound externally and in the cabin, and a nice chap from Lotus Engineering gave us an in-car demo.
So we got to 'drive' the Evora on the show stand in both V6 and V12 configurations, from thrummy idle all the way through to howling 'max revs' through the gears. It sounds delicious, and amazingly convincing as ambient sound - even though it's coming through the Harman speakers. (You can play your favourite tunes over the engine sounds, too.)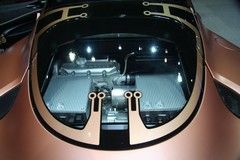 Most intriguing though, is the paddle-shift system designed to mimic the behaviour of a real gearbox on the road. Quick down-changes will provide an electronic engine braking effect, which is said to affect the chassis dynamics in the manner of a 'real' sportscar with a 'proper' i/c powertrain.
With 408hp from the two electric motors, which will be set up to provide torque-vectoring, and 590lb ft of torque the Evora 414E will sprint to 60mph in less than four seconds, although the motors run out of revs at 120mph. With the three-cylinder motor topping up the batteries, up to 300 miles range is available between charges.
Lotus Engineering say the prototype will be undergoing customer assessment this summer, when we hope to be able to try it out on the road. If all the feedback is positive, they tell us we can expect to see a similar machine on sale in Lotus dealers in around two years.