Friday 12th March 2010
PORSCHE PANAMERA CABRIO IMAGES
New report says patent office pics prove Panamera Cab is a go-er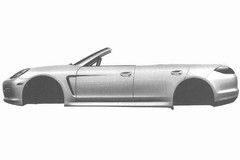 Hot on the heels of yesterday's Patent Office 'scoop' on the new Mercedes SLS AMG Roadster, comes a possibly more controversial set of images - this time showing a four door Porsche Panamera Cabrio.
A Panamera 'Cab' has been the subject of speculation long before these images escaped onto the internet, but the most recent reports quoting Porsche company insiders have strongly implied the project was not going to get the green light.
Now, a new Autocar article reckons a series of 'fresh patent applications in the US' indicate the programme is still alive and well.
As car makers have been known to patent designs not destined for production, we wouldn't be confident that a patent filing indicates anything other than the fact that Porsche is exploring (or has explored) the Panamera concept in some detail. However,
Autocar
probably knows something we don't, and if the project is 'alive' as the report claims, it's going to be a fascinating one.
The images show a four door design, with a steeper windscreen rake and new front quarter-lights on the A-pillars. While admitting that four door cabrios have often been troublesome to design in the past due to the extra weight of 'stiffening' works, Autocar tells us that "advances in high-strength steel and tailored blanks (sections of steel in varying thicknesses) have reduced costs to a point where they are now being considered as part of new-model plans by many car makers".