Thursday 22nd July 2010
NISSAN TAKES AIM AT GERMAN SPORTS CARS
New ad campaign takes pot shots at Porsche, Audi and BMW
It isn't just politicians who go in for 'negative' advertising campaigns, it seems. Nissan has launched a tongue-in-cheek campaign for the 370Z and GT-R that puts down the cars' German rivals.
The idea, says Nissan, is to highlight the fact that the German rivals for the 370Z and GT-R perform worse and yet cost more than the Nissans.
The campaigned has been launched using the huge billboard on the British Film Institute IMAX cinema in London. The campaign uses phrases such as 'The Winner Hans Down,' 'The Germans Came Off Wurst,' 'Kaisers Chiefed' and 'Deutschland Deutschland Über-Rated'.
Nissan's latest volley against Ze Germans involves driving a be-stickered Audi TTS coupe around London with the phrase "More expensive, slower and less powerful than a Nissan 370Z," on the side, and a similarly labelled-up Porsche Cayman saying "I dream of being as fast as a Nissan 370Z".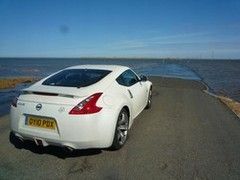 The campaign will continue on outdoor poster sites and in magazines for the next six months.
"It simply challenges the convention of German sports cars being the only benchmark for performance and quality," says Steve McLennan, Nissan's marketing director.
That's as may be - but we doubt Nissan will have it all its own way; we would be surprised if Porsche, Audi and BMW (also the subject of Nissan-attack) don't return fire sooner or later...
...Meanwhile we shall continue to enjoy our very own long-term Nissan 370Z, and will hopefully soon get a chance to put it head-to-head with a Cayman for ourselves.