Friday 20th August 2010
FERRARI F355 BUYING GUIDE - INTERIOR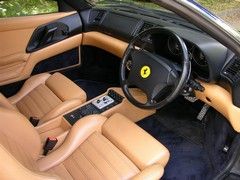 Although sometimes criticised previously, Ferrari quality was much improved by the time the 355 went on sale, but that doesn't mean there aren't problems to look out for. The driver's seat bolster can wear, but this is usually easy to deal with by reconnolising the leather.
More of a problem is the rubber-effect material peeling from the centre console. It looks messy and there's no easy or cheap fix other than complete replacement. Cars that spend a lot of time in hot climates can experience dashboard tops that shrivel in the sun, but this is straightforward to cure by recovering the dash in leather or Alcantara.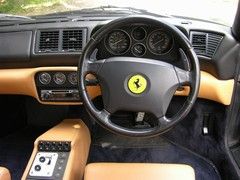 A rare optional extra is Ferrari's carbon fibre sports seats. Now highly sought after, they're very comfortable and ideal for any owner considering track work in his or her 355. Other carbon add-ons for the 355 included interior trims pieces for the centre console, door inserts and dash, but few buyers specified these. Owners were more likely to order Scuderia Ferrari shields for the front wings, a Challenge black mesh grille or a spare wheel with jack to replace the standard space saver spare wheel.
A limited run of five F355s was made called the Asprey edition to mark the famous jeweller sponsoring Ferrari's race cars. All five cars were finished in Grigio Titanio silver with dark purple leather interiors. Some small changes were made to the switch layout and chrome trim was also added. Each car had fitted luggage supplied as standard, which was an option for buyers of the standard F355 models.
Buying Guide Section Menu:
Ferrari F355 - Introduction
Ferrari F355 - Powertrain
Ferrari F355 - Rolling chassis
Ferrari F355 - Body
Ferrari F355 - Interior (viewing now)
Ferrari F355 - General experiences
Ferrari F355 - Search the PH classifieds...