Wednesday 2nd March 2011
GUMPERT TORNANTE LAUNCHED IN GENEVA
German supercar maker's second model gets Italian body and 'fast tourer' tag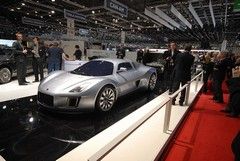 This is the Gumpert Tornante, the German supercar manufacturer's second-ever model.
Developed in conjunction with Italian coachbuilder Touring Superleggera (a partnership that started just a year ago at the 2010 Geneva show), the new Tornante, say its creators, is a pioneer of a whole new niche - the 'fast tourer'.
Basically, this is a GT, only faster. The Tornante shares its basic innards with the more hardcore Apollo, but has been softened off.
The chassis is still an unusual mix of metal spaceframe and carbon fibre monocoque, but engineered for more space and comfort. Likewise the suspension is still a double wishbone set-up all round, but has been tuned for comfort rather than outright agility and grip. Oh, and the engine has been down-tuned to 'just' 690bhp and 664lb ft of torque.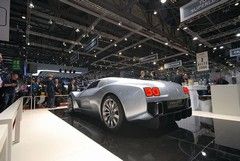 Gumpert plans to start selling the Tornante in 2012, and hopes to find owners for 30-50 cars per year.