Tuesday 12th April 2011
CATERHAM REVEALS NEW TRACK-FOCUSED SUPERSPORT
140bhp Seven pays homage to 'Supersport'-spec racer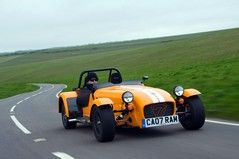 Question: What looks like a Caterham R500, but isn't an R500? The answer is this, the Seven Supersport Caterham - first full-on new Seven model for two years.
For a whisker under £20k (£19,995 incl tax), the Supersport gets a new 140bhp version of the 1.6-litre ford sigma engine, short-ratio gears, a lightweight flywheel and race-spec suspension (including toughened-up anti-roll bars and springs and dampers borrowed directly from its Supersport series race car cousin).
There is also a limited-slip diff, and track-focused CR500 Avon tyres on 13in wheels. The whole thing comes in at just 520kg (plus driver) and can sprint to 60mph in 4.9secs on its way to a 120mph top speed.
Inside (well, you know what we mean), its track focus is emphasised with integrated change-up lights, an aero screen, composite race seats and a four-point race harness.
Factory-built, the Supersport will cost £22,995.