Monday 23rd May 2011
EPIC MAZDA 787B RIDES AGAIN
700hp rotary racer to return for Le Mans demo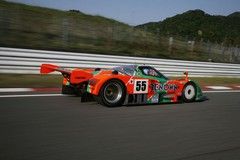 700hp of screaming rotary power will thrill race-fans at Le Mans this year as - twenty years after its famous victory - Mazda has been invited to demonstrate its amazing 787B racer.
In case you weren't there in 1991 to witness the noise 700hp of rotary engine makes, Mazda has provided this video of the 787B racer in shakedown trials at the company's Mine proving ground earlier this month. The trials followed careful restoration of a car that's been on static display at Mazda's museum in Hiroshima for the best part of the last two decades.
As well as being the only rotary-engined car to win at Le Mans, the 787B is also the only Japanese victor to date - a fact which definitely still grates with racing-minded folk at Mazda's domestic rivals.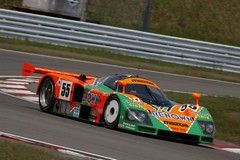 Jointly developed by Mazda and Mazdaspeed, the 787B had a chassis designed to meet Group C racing car technical regulations and was powered by a four-rotor engine. Due to rule changes, 1991 was the last year that a rotary-engine car could have entered Le Mans, and the victory was the culmination of 17 years of effort.
In preparation for this year's demonstration, restoration work has been carried out by current Mazda employees who participated in the company's original Le Mans challenge. Mazda plans to run the 787B on the Circuit de la Sarthe at 12:30 p.m. on June 11 we're told, and winning driver Johnny Herbert will be in attendance.