Friday 24th June 2011
NEW STRATOS HITS THE COMPETITION TRAIL
Ferrari-engined 'New Stratos' put through its paces on German streets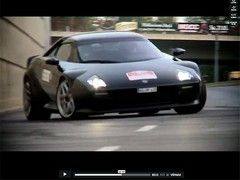 If you had a more or less 'money can't buy' re-imagined Lancia Stratos, would you hurl it around a tight, twisting sprint course with unforgiving concrete walls looming on the exit of many corners?
Michael Stoschek, commissioner and creator of the 'New Stratos' would. And here's the video to prove it.
He's flinging his 1247kg, 430 Scuderia-based Stratos around the streets of Zwickau in Germany with what pretty much amounts gay abandon, using every one of the 532bhp available to him. Good man.
There had been talk earlier in the year of reproducing the New Stratos for a limited production run at a cost of roughly 400,000 euros (roughly £357k). We hope that's still the case - because it looks like Herr Stoschek's ride is rather a lot of fun...
Michael Stoschek und Dieter Hawranke, Sachsenrallye 2011 from New Stratos on Vimeo.