Monday 27th June 2011
ELUSIVE 10-MINUTE MARK SMASHED AT PIKES PEAK
And yes, it was Nobuhiro 'Monster' Tajima what did it...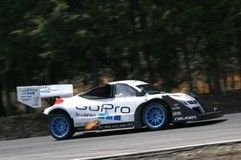 Nobuhiro 'Monster' Tajima has finally smashed the 10-minute barrier at the Pikes Peak International Hill Climb, chucking his Monster Racing special up the famous mountain course in 9mins 51secs.
In the process Tajima, driving a 900hp beast bearing the most passing of resemblances to a Suzuki SX4, beat his previous record (set in 2007) by a whole 10 seconds.
Good thing he managed it this year, too, because, and to paraphrase Elvis, 2011 was 'now or never' for a 'proper' sub-10min run: from next year it's highly likely that the entire course will be Tarmac.
"This our last chance to run the gravel section of Pikes Peak," says Monster (in the preview video you can watch below), "I will miss it very much".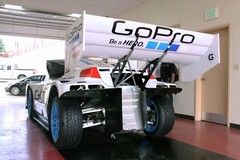 Mind you, you could argue that Tajima's achievement isn't quite so epic given that year's course, though not entirely asphalt, features more of the black stuff than ever before - and so you might argue that the times for the hill climb
ought
to tumble.
But his rivals didn't really get anywhere near him. Rhys Millen in his Le Mans prototype-alike Hyundai could only manage 10mins 09secs, while Jean-Philippe Dayraut and his 850hp Dacia Duster crossed the finishing line with 10mins 17secs showing.
Well done, Monster - we're glad you did it while there was still dirt at the top of the mountain...
And here's the full video...