Monday 27th June 2011
FINAL BUGATTI VEYRON SOLD
250mph hypercar ends seven-year production run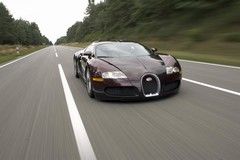 It's gone. You're too late. If you had been hanging on that extra few weeks before bunging down a deposit on a Bugatti Veyron, it's too late now. Because the Last Veyron has been sold to an anonymous European customer (
Exactly how anonymous can you be, driving around in a Bugatti Veyron? - Ed
.)
Just 300 Veyrons were built over its seven-year production run, and the final owner will still have to wait until next autumn before they get their million-pound hypercar on the driveway.
But it's not quite your last chance to get hold of a piece of the car that broke the 250mph (or 268mph in the case of the Super Sport), because you can still get hold of the soft-top Veyron Grand Sport, which will be produced until 150 examples have found homes.
Next up for Bugatti will be a mega-luxo-barge type affair, due to hit the road in 2013-14, a production version of the Galibier 16C concept that was unveiled back in 2009.