Friday 22nd July 2011
BERNIE EMBROILED IN SCANDAL AHEAD OF GERMAN GP
Ecclestone admits to making £27m payout to German banker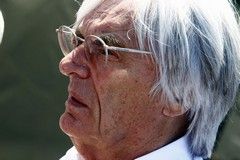 F1 supremo Bernie Ecclestone has admitted for the first time that he did pay former banker Gerhard Gribkowsky £27m following the sale of F1 five years ago.
Prosecutors in Germany have alleged that Ecclestone bribed Gribkowsky, who was overseeing the sale of German Bank BayernLB's stake in F1 to the sport's current commercial rights holders, CVC Capital Partners.
In return for a large payment to a family trust and £25.3m in commissions from the bank, Ecclestone is alleged to have paid Gribkowsky the £27m. Gribkowsky was formally charged this week with breach of trust, tax evasion and having been in receipt of corrupt payments from Ecclestone, while Ecclestone is still being investigated by the German authorities. For his part, Ecclestone has said he expects to be fully exonerated.
Ecclestone told the Daily Telegraph yesterday evening that he made the payment because the German banker "'threatened' to cause trouble for him with the Inland Revenue".
F1's chief executive did, however, stop short of actually accusing Gribkowsky of blackmail.
"Ecclestone claims that Gribkowsky made false allegations about his relationship with his offshore family trust, Bambino Holdings," reports the Telegraph, "adding that although he has 'never had anything to do with the trust in any shape or form, he [Gribkowsky] threatened that he was going to say that I was running it'".
Ecclestone also says he asked his lawyers at the time about Gribkowsky's 'threat'. "They said 'I tell you what would happen," Ecclestone told the Telegraph, "the Revenue would assess you and you would have to defend it, because you could defend it, and you would be three years in court and it would cost you a fortune. Better pay'."