Monday 8th August 2011
VIDEO: ARRINERA, THE POLISH SUPERCAR
No, it's not Modena, but Warsaw is now the official home to a supercar maker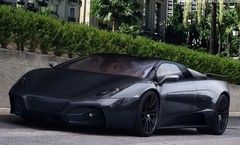 This is the Arrinera, an all-new supercar from, of all the unexpected places, Poland.
Yes, it looks like a Lamborghini and yes, it is powered by that favourite engine of makers of my-first-supercars, the supercharged 6.2-litre LS9 GM V8. But this is one fledgling supercar that you can perhaps take more seriously than many a rendered start-up - because this one's actually real.
The rendering you see on this page has been hanging around for a while now, but if we published a story on every speculative supercar start-up, we wouldn't have time to write all that hard-hitting up-to-the-minute news that you love so much on PH (That really doesn't sound like us, Riggers. What website have you been reading? - Ed).
Now we've seen this video, however, we can at least say that a prototype exists. As for how much? Er... we don't know, but we do know that you will get carbon fibre (and other) composite bodywork clothing a tubular steel chassis, ceramic brakes, and even a thermal imaging camera (so drivers can check out the local 'hotties', presumably - sorry).
As for when you'll be able to get it, looks like sometime in 2012 is Arrinera's target date to start selling cars.