Thursday 18th August 2011
MCLAREN RACE CAR SOLD OUT FOR 2012
All 20 MP4-12C GT3 cars have now found homes, says McLaren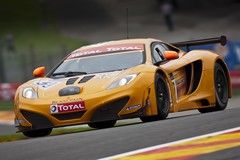 McLaren's new £310k MP4-12C GT3 race car (
check it out in POTW action here
) is sold out for the 2012 race season.
In order, it says, to provide sufficient engineering support to its customers, McLaren has limited its production of endurance race cars to 20 for the forthcoming season.
McLaren says it will bring F1 know-how to GT racing (citing a steering wheel that is "of the same design employed by Lewis Hamilton in his MP4-24 Formula 1 car" - though we're not entirely sure how relevant that is), and that its customers have been tempted by the "promise of no hidden costs and the opportunity to work with McLaren GT engineers throughout 2012 in developing the 12C GT3 to their own race specification".
All of which sounds ever-so promising. And if the car's pace in the races it has competed in so far is anything to go by, we can look forward to seeing McLarens at the sharp end of many an endurance race in 2012...
McLaren MP4-12C GT3 Technical Specification
Width (mm)
1995mm
Height (mm)
1145mm
Wheelbase (mm)
2670mm
Fuel tank capacity
120 litres
Chassis/body
McLaren carbon fibre MonoCell with aluminum front and rear frames and bespoke carbon body panels
Aerodynamics
Front and rear diffuser, front splitter, dive planes and adjustable rear wing.
Transmission
6 speed sequential using actuation via steering wheel mounted paddles
Limited slip differential with a range of ramps and adjustable pre-load.
Wet sump
Sintered clutch hydraulically operated
Driveshafts with tripod joints
Engine type
V8 twin turbo McLaren M838T
Engine capacity
3.8L
Bore x Stroke
93 x 69.9
Max. Engine speed
Limited to 7500rpm
Cylinder block
Cast aluminium , 90 deg V angle, dry sump scavenge, Nikasil coated liners
Crankshaft
Forged steel flat plane
Pistons
Forged aluminium
Conrods
Forged steel
Cylinder head
Cast aluminium with plastic composite cam covers, inlet & exhaust variable cam timing
Valvetrain
32V with 40 deg variable cam timing on intake & exhaust. Low mass with sliding contact end pivoted finger followers, single variable rate springs and hollow cast chilled iron camshafts
Intake system
Two water/air charge air coolers. Plastic composite plenum.
Exhaust system
Cast stainless steel exhaust manifold with compact MHI fixed geometry turbo chargers.  970 deg C turbine inlet temperature.
Fuel system
Returnless fuel rail with twin fuel tank mounted pumps and twin spray injectors
Engine management
MESL TAG400 ECU & CIU 100
Interfacing with Bosch ABS and Shiftec control units
Wiring harness
Modular installation: Engine, chassis, fuel cell
Lubrication
MOBIL1: engine and transmission
Cooling
Air/water heat exchangers for engine water and charge air cooling combined with water/oil heat exchangers for engine, transmission & PAS.
Front axle
SKF integrated axles with handed single wheel retaining nut
Rear axle
SKF integrated axles with handed single wheel retaining nut
Front suspension
Double wishbone adjustable for ride height camber and toe
Rear suspension
Double wishbone adjustable for ride height camber and toe
Dampers
Coil over Multimatic dampers with DSSV technology with independent bump and rebound adjustment
Front brake system
Akebono 6 piston monoblock caliper
378Ø x 36mm Iron ventilated disc
Rear brake system
Akebono 4 piston monoblock caliper
355Ø x 32mm iron ventilated disc
Steering
Electro-hydraulic PAS
Wheels
Forged Aluminium
Front 12" x 18"
Rear 13" x 18"
MESL TPS system compatible
Cockpit electronics
Multifunction steering wheel with integrated driver display
Central switch panel with systems display screen
Steering wheel
Derived from MP4-24 Formula 1 wheel retaining integrated driver display, paddle shift and switches