Tuesday 30th August 2011
DRIVEN: PORSCHE CAYMAN R
We know the Cayman R's good, but does it make sense?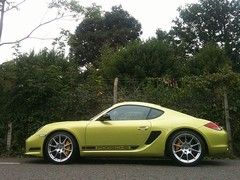 This?
A Porsche Cayman S with an extra 10bhp, a weight reduction of 55kg, lower and stiffer suspension with more negative camber, front and rear spoilers that reduce lift by 15% on the front and 40% on the rear, and a manual gearbox. All for a moderately reasonable £51,731 (£4124 more than a Cayman S). Ought to be a winner, right?
Well there's absolutely no doubt that the Cayman R is a pretty fabulous piece of kit, and the weight-saving tricks (RS door pull straps, no cup holders, no door pockets, a 10-litre smaller fuel tank) combined with the pleasantly lairy paint and graphics add a good dollop of hardcore appeal to the car. The question is whether it goes far enough
Yes, the ride is firmer, and the car feels marginally more eager, agile and keen to please out on the road. But it's no hardcore track weapon - it's still an eminently usable everyday car, despite the occasional difficulty you might have in dropping into the gorgeously grippy fixed-back bucket seats (they save a total of 12kg, don'tcha know...).
...or this? Choices, choices...
And yet, and yet, I reckon this very everyday approachability is (perversely) the Cayman R's downfall. Notwithstanding the fact that the 'R' badge has historically been reserved for truly hardcore Porsches, there is a nagging feeling that this isn't as extreme a car as you perhaps hope it might be.
In fact, if you did buy this car you would quite conceivably do so as an everyday purchase. And if you did that, you would most probably be tempted to tick the boxes marked 'air-con' and 'stereo'. Which would leave you with a car that's more Cayman S-plus than Cayman R.
And if there was no Cayman S, then the R's existence would make absolute sense. Indeed, it's still a brilliant car, both on track and off it (as our Adam Towler described when he drove the Cayman R in Abroadland back in February). But if you want to use a Cayman on the road, you'd probably be better off with an S, and if you want a £50k (ish) track toy with the Shield of Stuttgart on it, then why not point your hard-earned in the direction of, say, a 996 GT3 such as this one?