Monday 5th September 2011
LEXUS LF-A POSTS BLISTERING UNOFFICIAL 'RING TIME
Good times for Toyota, as LF-A blitzes Nurburgring competition, and electric car sets its own 'Ring record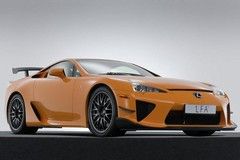 Seems there's records tumbling all over the place at the moment, albeit unofficial ones. As well as the Koenigsegg's attempts at accelerative dominance, the production car lap record at the Nurburgring apppears to be under threat.
According to a Tweet last week by EVO's Chris Harris, the Lexus LF-A Nurburgring, driven by Gazoo Racing driver Akira Iida punched in a lap of 7mins 14secs, comfortably beating his own time of 7mins 22.85secs, posted during an 'exhibition lap' at the Nurburgring 24 hours in June.
Well, we say records are tumbling - there are still three 'production cars' which are faster around the Nordschleife, but since these are two Radicals and a Gumpert Apollo, they can hardly count as everyday road cars. More to the point, this puts the LF-A Nurburgring ahead of the Porsche 997 GT2 RS and the Corvette ZR1 (not to mention the Nissan GT-R).
Official records for ToMoCo too...
Toyota has nabbed a pukka Nordschleife record recently, however. They've become kings of the EV 'Ring, posting an impressive time of 7mins 47.794secs in the TMG EV P001 prototype, a Radical-based chassis modified by German electric sports car specialists e-WOLF.
The 800lb ft, 160mph car puts the Peugeot EX1's time of 9mins 01.338secs firmly into second place. You can see the video below...