Wednesday 28th September 2011
NEW 911: BETTER LIKE IT 'COS IT'S HERE UNTIL 2025
New 991 911 to do a 'double-stint' with two seven-year model cycles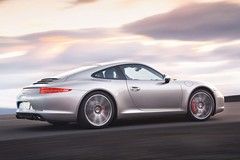 In what we must presume to be one of the first examples of Austerity Age performance motoring, it's been revealed that the new 991-generation 911 will be around for two seven-year model cycles. So the car you're looking at now is, in essence and proportion, the same that will still be in active service come 2025.
Which means that, when the Euro seems like a bad dream, we're all indulging in wars over water, China has bought out the entire US car industry, and everybody's trundling around in range-extender electric vehicles, the 991 will still be with us.
But don't worry, because Porsche is going to have plenty of stuff coming along to keep up our interest in the ol' girl. We've got the Carrera 4 and 4S in December, the Cabriolet next year (apparently with a clever semi-hard roof - stop sniggering at the back, there) and a Turbo and GT3 in 2014.
Then (and just in case you were getting bored) Porsche is set to drop downsized turbo flat-sixes into the 911 in 2015 (that's going to upset a few people, we suspect).
Beyond that, there are also plans for a hybrid 911, a new Targa (which will revert back to its original hooped-bar design theme) and possibly even a new 911 Speedster (not to mention the numerous RS models and other special editions). Plenty to keep the folks a Weissach busy, in other words...
(You can read about Porsche's plans in a little more details on the CAR magazine website)