Tuesday 8th May 2012
PH2 RACING ROUND-UP: MOTO GP AND WSB
MotoGP Estoril and WSB (almost) from Monza - anyone else not leave the house on Sunday?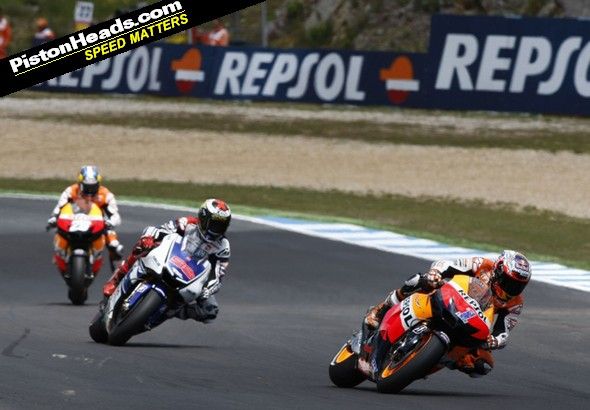 MotoGP
Another MotoGP race and another Stoner/Pedrosa/Lorenzo show. True to form, Stoner attempted to do his usual disappearing act from the word go, with only Lorenzo and Pedrosa able to keep the Aussie within touching distance. Lorenzo chipped away and stalked Stoner for most of the race, only to fail to mount a challenge. Pedrosa finished third. Bad news for Cal, who finished fifth, behind his team mate Dovi. It shows how good Cal's season has been when we say 'bad news' when he finishes fifth!
On a lighter note it looks like someone has had a word in Rossi's ear. Seventh place may not sound great, but he was first Ducati, something that hasn't happened for a while. Is the tide turning? More bad news for Ben Spies: how much longer can a factory rider keep finishing eighth when Cal on a 'second-rate' bike is comprehensively beating him? Ben is class, but something isn't clicking yet for the former WSB champ on his 1000cc Yamaha.
Over in Moto2, after Scott Redding qualified a strong third place, the choice of a soft rear rather than the harder compound saw him drop to eleventh in the race, a place behind Bradley Smith, who is still struggling to get his bike handling the way he wants it. The race developed into a three-horse battle and, after Thomas Luthi dropped behind Marc Marquez and Pol Espargaro, it was between the two Spanish riders as to who would top the podium.
Never one to avoid a bit of physical contact, it looked like Marquez may get a bit of his own treatment from Espargaro on the last lap, but a mistake into the chicane saw Pol run on and Marquez take the win with Luthi third. Gino Rea was forced to pit but still finished the race, out of the points.
Danny Kent qualified fourth in Moto3 with Danny Webb in eighteenth spot. A good start saw Kent run with the leaders only to drop to eighth by the end of the race, while rising star Romano Fenati proved he is human after all and tipped off, relinquishing his championship lead. The race was won by Sandro Cortesi from Vinales.
WSB - Monza
Race one saw Sykes and Guinters make a break after Melandri split the pack by throwing himself into the gravel on lap one! Monza is all about top speed and sure enough, a few laps later the Aprilias appeared behind the leaders with remaining factory BMW rider Leon Haslam hot on their heels. Then the rain fell, bringing out a red flag and the cancellation of race one due to safety concerns. Basically the racers felt the Pirelli rain tyre wouldn't do the distance, having only managed three laps in practice before disintegrating...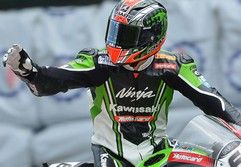 With the rain gone, race two saw the riders line up on a damp track only for a delayed start due to concerns over the condition of the track. Riders happy, the race started without a pole man as Guinters' Ducati stopped on the warm-up lap! Utter chaos, but the race eventually got going and Sykes grabbed the lead with Checa and Melandri behind.
Monza is all about speed, not a strong point of Checa's Ducati and he soon got passed by the Aprilias, BMWs and Jonathan Rea on the Fireblade. Brave riding saw Sykes build up a lead on the first few laps (over five seconds in three laps) while behind Haslam rode like a man possessed, fighting for second with Laverty after starting well down the grid.
Then the rain fell...again. More red flags and another cancelled race, with Sykes given the win and half-points, Haslam second and Laverty third. A bit of a damp squib of a WSB weekend yet good results for the Brits, with Sam Lowes getting second in World Supersport as well.
Race 1: Cancelled

Race 2:
1 Sykes
2 Haslam
3 Laverty
4 Melandri
5 Biaggi
Championship Points:
1 Biaggi 97.5
2 Checa 95.5
3 Sykes 91.5
4 Melandri 72.5
5 Rea 70
Brit watch: (Race 1, Race 2)
Jonathan Rea: (n/a, 6)
Leon Haslam: (n/a, 2)
Eugene Laverty: (n/a, 3)
Ton Sykes: (n/a, 1)
Leon Camier: (n/a, 15)
Chaz Davies (n/a,12)