Thursday 10th May 2012
SPOTTED: SMART FORFOUR BRABUS
Exclusivity assured with this slice of turbocharged hot hatchery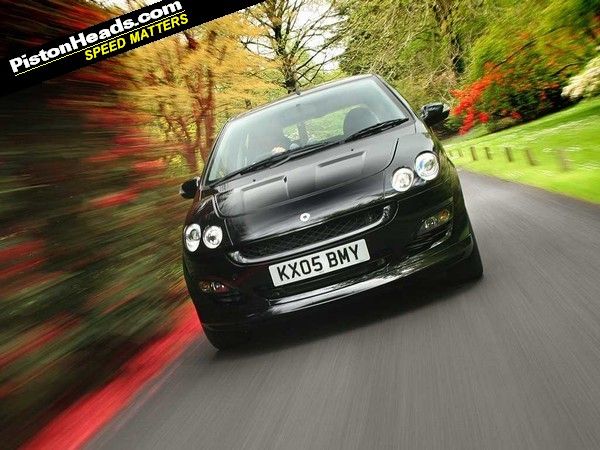 The train of thought that initiated this particular Spotted was, literally, the very action of spotting the car in question on the M25. Having driven the Brabus ForFour back 'in period' seeing one on the road was like a blast from the past and got me thinking, wow, that must be one rare car.
And it is, just 275 cars showing on howmanyleft.com. Two of these are currently advertised in the PH classifieds, this one perhaps the most appealing of them.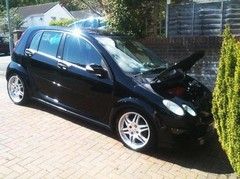 Smart (groan) little car for four grand
So, why would you? Well, it's certainly something different and, though perhaps a bit of a folly and a commercial failure, as a used buy it's certainly got some plus points. £4K isn't quite cheap as such but 177hp and that 1,090kg kerbweight are respectable figures and a healthy margin over the mechanically related
Mitsubishi Colt CZT
, which made do with just 147hp.
0-62mph in 6.9 seconds and a 137mph official top speed are nothing to be sniffed at and the muscular power delivery ensures it feels as exciting as it sounds. A quick browse about reveals that the 1.5-litre Mitsubishi engine does have a little headroom for additional tuning too, should that be your desire. Heck, there's even one that races in Britcar.
As memory serves the Brabus'd ForFour is entertainingly raw and a little uncouth, with plenty of turbocharged torque (steer) and a fairly uncompromising ride. That relative lack of weight works in its favour though and what it lacks in the last word in finesse it makes up for in punch. The electric steering was never the most feelsome but the relative lack of weight and general flingability are appealing, ditto the relatively reasonable 40mpg+ and 159g/km running costs. Those plastic panels give the ForFour a distinctive look too, the black on black of this car diluting that effect somewhat but in contrasting colours as many were making the four-door Smart look genuinely a bit different. Fair to say the rear three-quarter view works better than that disappointingly 'soft' front end but it's not without appeal.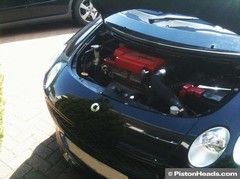 Brabus tuned Mitsubishi 1.5-litre has 177hp
The Brabus trimmings help lift it a bit too, those lovely Monoblock VI wheels looking as good as they do on hot Mercs and the bits of Brabus bling in the interior helping to distract from the grey plastic that dominates.
What else might tempt you for the money? Well, the purist's hot hatch of choice from this period would be a Clio 182 of some description but good ones are going to cost you a bit more than this. A Mini Cooper S might tick some of the same boxes too but you'll be paying as much as double for the privilege. Perhaps not the obvious choice then but if you value individuality and fancy a hot hatch with a difference it could well be worth a look.

---
SMART FORFOUR BRABUS
Engine: 1,468cc 4-cylinder, turbocharged
Transmission: 5-speed manual
Power (hp): 177@6,000rpm
Torque (lb ft): 169@3,500rpm
MPG: 41.5mpg (NEDC combined)
CO2: 159g/km
First registered: 2006
Recorded mileage: 72,500
Price new: £17,195
Yours for: £3,995

---
See the original advert here or have a browse through similar cars in the new PH classifieds.