Friday 18th May 2012
WIN YOUR LE MANS GEAR WITH PISTONHEADS
All you need for Le Mans, for free!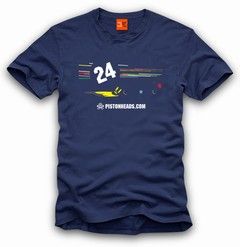 Win your choice of shirt x 4
Once the Le Mans excitement has started you just can't stop thinking about it. Even our clothing partner has caught the bug and called to say 'why don't we give away a Le Mans bundle?' And it sounded like a great idea to us, so here it is. Who says we don't give you anything?
The prize contains all you need for Le Mans* with a Le Mans T-shirt of your choice for you and the same for your three co-drivers. In addition we'll send you 2 x 10in door roundels, 2 x Toxicated stickers, 2 x PistonHeads Union Jack Smileys and a even a PistonHeads bottle opener. What more could anybody want for their trip to the greatest endurance race known to man?
If that wasn't enough we will give you a rousing reception at the PistonHeads Friday Service as you arrive (we'll wave and smile) and throughout the 24 people will point and ask 'are you those competition winners from PistonHeads?'
To be in with a chance of winning, all you need to do is this: Send us an email to competitions@pistonheads.com making sure you add the subject line of 'Le Mans competition', with your name, address and what size shirts you require. On Monday 21st May at 13.00, we'll pick a winner from a hastily emptied stubby beer bottle.
Thanks to SDiTH clothing for the prizes and to Le Mans for hosting a great race. If you don't win, you can always buy your Le Mans (and other PistonHeads items) in the PistonHeads shop.
Oh, and don't forget to book your place at the Le Mans Friday Service.   
* except a tent, a ferry ticket, camping pass, BBQ, beer and suchlike…but you get the idea
| | |
| --- | --- |
| 2 x 10-inch roundels | 2 x Toxicated |
| 2 x Smiley | 1 x bottle opener |