Tuesday 22nd May 2012
PH2: LE MANS MOTOGP AND NORTH WEST 200
Rossi wins a GP!!! OK, it was Frenchman Louis Rossi, but Valentino did pretty good as well!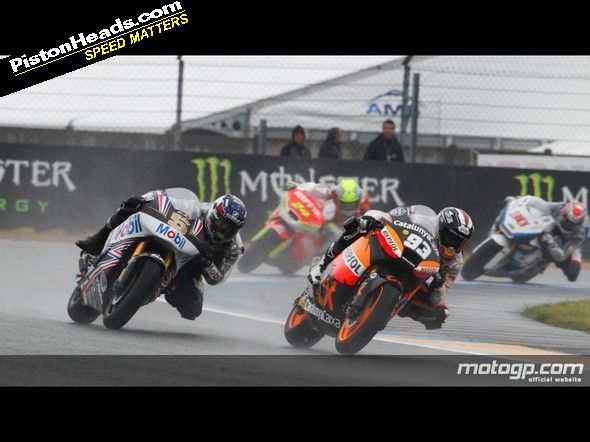 The shock announcement by Casey Stoner that he was hanging up his leathers at the end of 2012 was always going to be the talking point of the Le Mans MotoGP weekend. Stoner's departure, however, wasn't the only cloud over the French circuit and all three GP races were help in terrible conditions...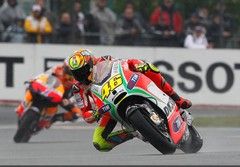 There was only one story in the MotoGP race - Valentino Rossi scoring a second place on the fickle Ducati. Rain is a great equaliser and it's amazing how much more interesting a MotoGP race is when Rossi is up there battling for a podium. With Jorge leading from start to finish it was up to Stoner, Rossi and the two Tech-3 riders to provide the entertainment.
A race-long battle was cut short when first Cal and then Dovi threw their Yamahas into the gravel - leaving Rossi and Stoner to fight for the remaining two slots on the podium. With his tail up Rossi was never going to give it up and there couldn't have been anyone this side of Australia who didn't let out a slight cheer when he took second from Stoner. After such a poor start to his Ducati career, let's hope this is the start of a comeback for the nine-time world champion. Or that every 2012 GP is wet...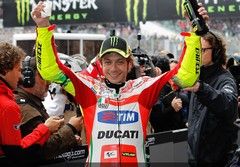 Moto2 promised much for the Brits. Poor qualifying by Bradley Smith and Geno Rea didn't matter as, after a few laps, they joined Scott Redding in the top five. Three Brits going for the lead of a GP, how good was that? Shame it didn't last. After an enormous moment, and terrific save, Rea had his front wheel taken out by Zarco and hit the ground while Bradders ran on. Scott stayed upright and with the leaders to claim a fantastic third spot and Bradley, who crashed on the last lap while challenging for fifth, remounted to finish 10th. The race was won by Thomas Luthi with championship leader Marquez also crashing out.
Moto3 delivered the most carnage of the day with only 15 bikes actually finishing the race! The Brits had a terrible time with both Danny Kent and Danny Webb falling foul of the conditions and not making the chequered flag. The race was won by Frenchman Louis Rossi, much to the delight of the crowds.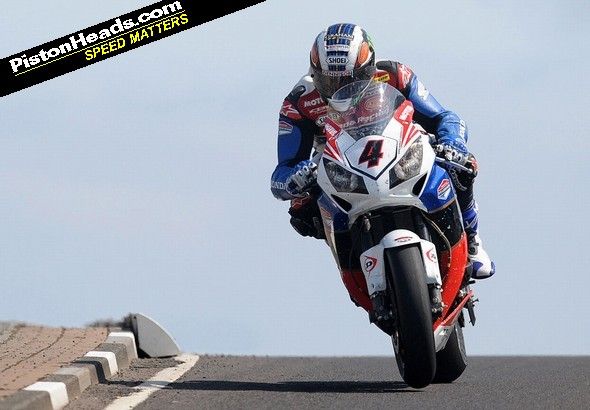 North West 200
Over in Ireland, North West 200 honours in the top class were shared by road racing legend John McGuinness and the ever determined (and rather small) Alastair Seeley.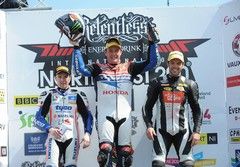 McG took the first Superbike race win after a mistake cost Seeley the lead, taking his tally to six North West wins overall, while Seeley took the win in the second Superbike race ahead of Rutter and McG. Supersport honours were shared by William Dunlop and Alastair Seeley while Seeley took both Superstock wins, making it a podium in every race and four wins for the Irish racer. The SuperTwin race was won by Ryan Farquhar with former GP star Jeremy McWilliams taking an impressive second place in his first trip to the North West 200. Tragically Mark Buckley was killed in the Superstock race, PH2 extends its deepest sympathies to his family and friends.
Results:
Superstock 1: Seeley, Johnston, Donald
SuperTwins: Farquhar, McWilliams, Rutter
Supersport race 1: Dunlop W, Seeley, McGuinness
Superbike race 1: McGuinness, Seeley, Donald
Superstock 2: Seeley, Johnston, Donald
Supersport race 2: Seeley, Dunlop W, Anstey
Superbike race 2: Seeley, Rutter, McGuinness