Wednesday 23rd May 2012
BMW TAKES TOP SPOT IN BRAND SURVEY
Market Research company marks BMW out as top automotive dog in survey of global brands
BMW has regained its crown as the world's most valuable automotive brand in an annual survey of the top 100 global brands conducted by market research company Millward Brown.
BMW has returned to the top spot it held in 2010 after Toyota (which had the 2011 number one as well as from 2006 through to 2009) lost its top place last year in the aftermath of the tsunami and nuclear powerplant disasters that afflicted all Japanese manufacturing industry last year.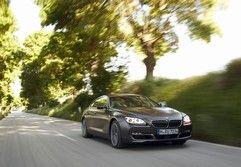 Honda Nissan and Lexus were also down on their 2011 performances, but all three brands remain in the top ten, joined this year by Hyundai in ninth - a first appearance in a survey of this kind for a Korean car manufacturer.
Mercedes-Benz, VW and Audi also saw strong growth, thanks in large part to strong exports to Asia - and in particular China.
But although BMW will no doubt be pleased with its performance, its net worth of $24.6bn still puts it way behind leading global brand Apple, which is worth a whopping $182.9bn.
World's most valuable car brands in $ billion; rank in top 100; % change from 2011
1.BMW $24.6 -- (23) 10
2.Toyota $21.8 -- (28) -10
3.Mercedes $16.1 -- (46) 5
4.Honda $12.7 -- (65) -11
5.Nissan $9.9 -- (81) -2
6.VW $8.5 -- (95) 15
7.Ford $7.0 -- * -5
8.Audi $4.7 -- 23
9.Hyundai $3.6 -- --
10.Lexus $3.4 -- -7
* Did not qualify for the top 100 in 2011
Source: Millward Brown