Thursday 24th May 2012
HAPPY 40TH, SPAGHETTI JUNCTION
Infamous interchange hits the big four-zero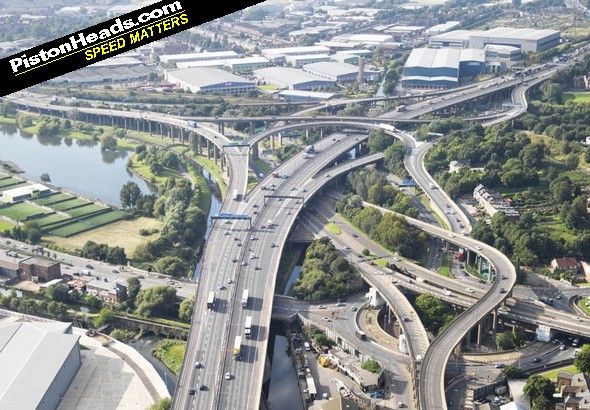 It's a big day for one of the UK's most famous interchanges, as the infamous Spaghetti Junction turns 40.
Opened on this day back in 1972 (by none other than Secretary of State for the environment, Peter Walker - everybody say 'ooohhh'), the Gravelly Hill Interchange as it is officially known, became the keystone of the Midlands Links project to join up the M5, M6 and A38 Aston Expressway into the centre of Birmingham.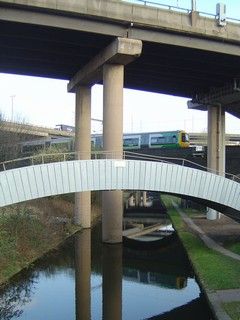 Canals, trains Mways - transport archeaology
Costing around £10m (a surprisingly frugal £90m in today's money), the junction took four years to complete. To help minimise disruption and demolition to the local area, it followed the path of the local canals and rivers - the designers even placed some of the 500 supporting concrete columns in such a way as to permit barges to continue to be drawn by horse along the towpath.
"This is perhaps the most exciting day in the history of the road system in this country" said Mr Walker, speaking with what today sounds like absurd hyperbole at the official opening of the road. But there was a genuine frisson of excitement surrounding what the Birmingham Evening Mail's Roy Smith coined Spaghetti Junction - in the weeks running up to the opening of the interchange a Burton-on-Trent bus company even ran half-day tours around the new stretch of road, for the heady cost of 65p.
Since then, the heavy traffic across the interchange (and the consequent need for near-constant repairs) has somewhat soured the public's relationship with Spaghetti Junction. Its complex nature has always been a point of worry for nervous drivers, too - as recently as 2009 it was voted Britain's most intimidating road in a survey of 3,225 drivers.
But despite its intimidating nature and the fears that, as with many other elevated concrete roadways such as the A4 Hammersmith Flyover, it may continue to crumble, the Gravelly hill interchange will be with us for a while yet. It's designed to last 120 years, so it's barely a third of the way through its life. Happy birthday, Spaghetti junction...
Ps - if you want to find out more about Spaghetti Junction, check out ITV Central's brilliant "Forty facts for forty years of the Spaghetti Junction"