Tuesday 29th May 2012
SPOTTED: SUBARU IMPREZA R205
The Japanese are always keeping the best special editions to themselves - this one made it over though!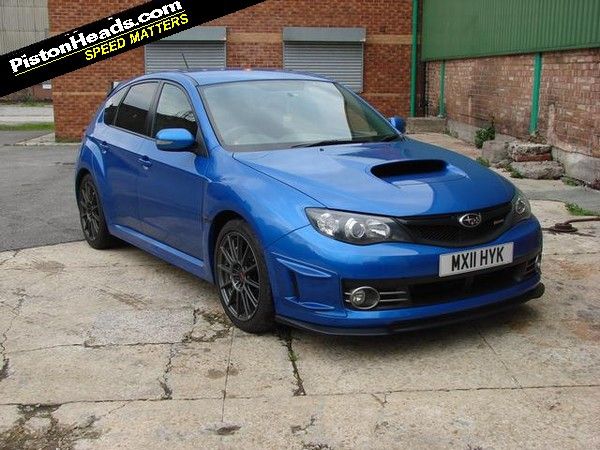 Keeping track of special edition Imprezas is a thankless task, the Japanese love of spinning increasingly rare and eclectic versions off essentially the same platform meaning there's a whole sub-culture of hardcore Subarus we never even see. Back in the day of course an import signifying square rear numberplate was enough to gain added kudos among fellow Scooby drivers. Turn up with a two-door Type R or - better still - one with a roof vent and you were nothing short of a hero.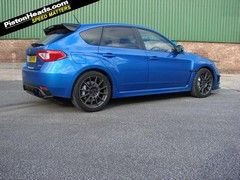 Relatively subtle outside, hardcore underneath
These days it's all a bit more underground, Subaru UK catering those who can't kick the Scooby habit with its limited run
Cosworth enhanced CS400
versions and diehards like Crossroads Subaru developing specials like the
time attack inspired TA340C
Harris drove recently. The Japanese still dig on their ultra-exclusive hot Scoobies though, like this R205 offered for sale in Manchester.
From the outside it looks pretty much standard fare STI hatch. Underneath it's a whole lot more exotic, the super-zingy, 8,000rpm JDM 2.0-litre boxer four offering a much more explosive delivery than the 2.5-litre chugger we get.
OK, equal length headers means no Subaru burble but that's a fair trade for the kind of throttle response regular STI owners could only dream of.
Based on the 2009 STI Spec C, the R205 takes that car's roller-bearing twin-scroll turbo, stiffer suspension bushings, Torsen rear diff, reinforced front cross member, aluminium bonnet, lighter glass and lightweight battery ... and goes further still!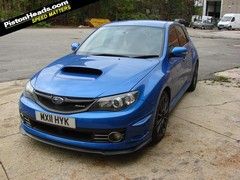 Just 400 R205s were built and one is here
Drawing on experience gained in the Nurburgring 24-hour, the R205 gets inverted strut STI dampers up front with STI springs and dampers at the back and specific STI adjustable upper strut brace and additional bracing across the lower suspension arms. The engine gets a tweaked ECU, specific exhaust - titanium on this car - and various other upgrades. Officially power rises to 320hp over the Spec C's 308hp but this one is apparently packing 400hp. OK, it can't match the Cosworth for torque - 318lb ft as standard against the 2.5's 400lb ft - but it'll be very much zingier in character.
A Subaru geek's delight in other words, the R205 the latest in a long line of super special Imprezas that started with the spectacular (OK, spectacularly ugly) S201 back in 2000 and has evolved through S202, 203 and 204. There's now an S206 too, this hatchback 205 the only one on the country according to the vendor.
OK, it's not cheap at £40K. But it's a fair comparison to the prices asked for the Cosworth CS400s also in the PH classifieds at the moment and, arguably, even more hardcore.

---
SUBARU IMPREZA R205
Engine: 1,994cc flat-4, turbocharged
Transmission: 6-speed manual, four-wheel drive
Power (hp): 320@6,400rpm*
Torque (lb ft): 318@4,000rpm*
MPG: N/A
CO2: N/A
First registered: 2011
Recorded mileage: 5,000
Price new: 4.5m Yen (plus taxes)*
Yours for: £40,000
*All figures as per official manufacturer spec
See the original advert here. The full geek spec on the car from Subaru's Japanese site can be seen here.