Wednesday 30th May 2012
YOU KNOW YOU WANT TO: AUSTIN POWERS' E-TYPE
Cult movie memorabilia, or a classic ruined? You decide...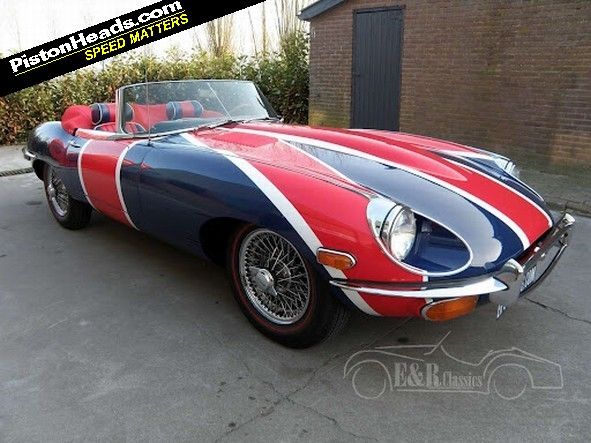 This Jaguar E-Type Roadster, resplendent in the red, white and blue livery of the Union Jack both inside and out is inevitably going to polarise opinion.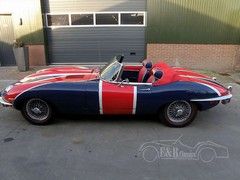 On the one hand you might see it as a denigration of an example of a true motoring Icon. It is, after all, recognised as one of the greatest and most beautiful sports car designs of all time, to the extent that it is on permanent display at the New York Museum of Modern Art.
On the other hand, it is a genuine piece of movie memorabilia, being one of two E-Type Roadsters done up as such for the 1999 Austin Powers movie 'The Spy Who Shagged Me'. And, while the dignity of most cars would whither beneath such an onslaught of brash patriotic colour, the E-Type can perhaps just about get away with such a colour scheme. After all it harks back to a time (however brief it may have been) when Britain was actually cool, and despite the Mickey-taking nature of the Austin Powers series, the movies tacitly admit this.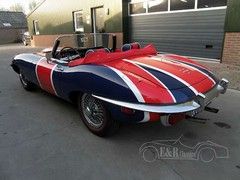 If you're quick with getting hold of the car and bringing it back from where it's for sale in the Netherlands (a 1970 series 2 that was fully restored for the film), you could even be the toast of your local Diamond Jubilee street party this weekend...
For a car with such a glamorous provenance it doesn't even seem all that expensive, either. Certainly that £75k-ish price tag doesn't appear to have too much of the usual celebrity mark-up that this sort of memorabilia so often attracts. In fact, it's slap bang in the middle of prices for E-Types in the PH classifieds, which run - astonishingly - from as low as £16,500 all the way up to £165,000.
Of course even that reasonable-ish price might not be enough to sway you. But if it helped you to get Heather Graham into bed, perhaps you'd change your mind...shagadelic baby, yeah! (Etc...)

---
Austin Powers E-Type
Price:  £75,000
Why you should: It's Grrr baby, very Grrr
Why you shouldn't: You won't exactly be able to hide in a crowd