Friday 1st June 2012
PH BLOG: RADIO GAGA
Harris gets lost in the joys of old radios ... really lost!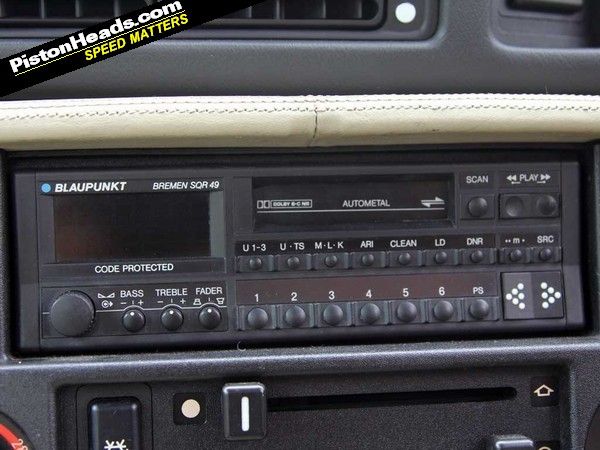 WARNING: You will either need to be over 35 years of age, or very sad, or preferably both, in order to understand this blog.
If you had told a 17-year-old me that, 20 years into the future, he would be searching something called the internet for examples of classic car hi-fi, I suspect he would have scoffed. On a practical level, he wouldnít have had the foggiest what the interweb was (in many ways he still doesnít), and the idea of seeking-out crummy old head units would strike him as the pastime of a particularly sad middle-aged man.
Well, here I am fresh from a decent session researching the delights of the Blaupunkt Berlin on eBay Germany, middle-aged, balding and proud.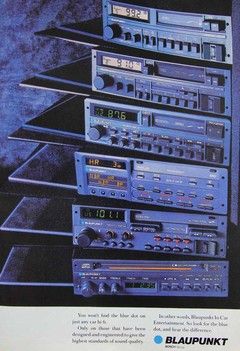 A tower of Blaupunkt-based joy
One of the great joys of owning old cars is that they force you to interact with in-car media from the time in which they were built. I have three cars with cassette decks and a great stack of old material to use in them. Even though I tell myself I use the cars to enjoy the driving experience, subconsciously Iím sure I actually get withdrawal symptoms from a lack of ZZ Topís El Loco on compact cassette Ė and the need to hear an honest 80s hi-fi wheezing at high frequency is the real reason for that particular journey.
I have a slight conundrum just now: two of the three cassette using machines have the correct, original head-units. But the 1986 E28 M5†does not. It has a Blaupunkt Bremen SQR 49, which I think was built around 1990. To the untrained eye it looks right in the cabin, but to me itís all wrong Ė sometime in the later 80s Blaupunkt moved from rounded buttons to more geometric shapes, and this one represents the wrong side of that change.
The options are to get over myself (clearly not possible) or search for the correct unit. For me, the definitive head unit for an expensive Porsche or BMW built in 1985/86 is the Blaupunkt Toronto SQR 46. It wasnít the absolute pinnacle, but it was the most frequently used and did a fantastic job. The trouble is my eyes keep wandering the internet looking at alternatives and trying to figure out what the spec differences are between these exotically named Blaupunkt units. For some reason the Clarions, Aiwas, Panasonics and Sonys never did it for me.
They still fascinate me now as much as they did when I was a kid: spotting a Montreux RDR 49 in a friendís dadís E30 when your dad had but a lowly Cambridge SQM 26 was probably a bit like seeing a Premier League footballist on the local club training field. Not knowing anything about the game, I should probably avoid soccer-based similes, but you get the idea. I loved this stuff Ė still do.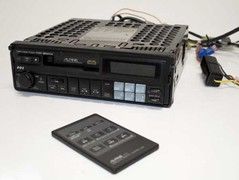 Literally hours spent pondering this kind of thing
Now the Toronto is at the top of my list, but what Iíd really like is a Berlin TQR 07. It fits the age perfectly, and would allow me to fulfill a personal dream and fit one of the famous stalks for the full 80s effect. These are worth a few quid nowadays, but itís money well spent. Ebay Germany is an Aladdinís cave of 80s car radio memorabilia, and I keep stumbling over stuff I hadnít heard of before, but the reality is Iím kidding myself if I donít get a Toronto.
Moving on. Is it acceptable to buy a car purely as a vehicle (pun intended) to home oneís perfect piece of in-car hi-fi? It must be. In which case, I need something from 1991/1992, this way I can justify buying a used Alpine 7618R Ė the best head unit I ever owned and capable of lifting the humble cassette to unprecedented levels of sonic beauty.
People say that Nakamichi made the very best tape decks for both home and car, but I could never get my hands on one, and once Iíd used a 7618R, I couldnít imagine anything looking, feeling or sounding better. It is the highest quality electrical component I have ever owned. One day in 2001 I couldnít be bothered to remove my slightly dog-eared example from a Citroen AX GT we were selling and I effectively gave it away. At least once a year the memory of that shocking decision wakes me in the middle of the night.
Now the solution here should be to buy an Alpine 7618R and bolt it into the E28 M5. But that leaves in exactly the same predicament as I am in right now, albeit using the best head unit in the world.
The solution might be to get a 7618R for my W124 cab (a bit too old for the car, but certainly acceptable and cheaper than buying a car as a receptacle for a hi-fi unit), get a Toronto for the E28 and be done with it. But I know Iíll keep looking at Blaupunkt Berlins on ebay.
What is it about this era of DIN-sized stereo equipment? For me itís the quality, the memories, the looks, the complexity, long wave and access to Now Thatís What I Call Music 5.
Iíll get my coat now.
Chris