Tuesday 19th June 2012
CATERHAM SP300 R SETS PAGEANT OF POWER RECORD
Extreme track car sets CPoP record - we presume slicks and downforce helped...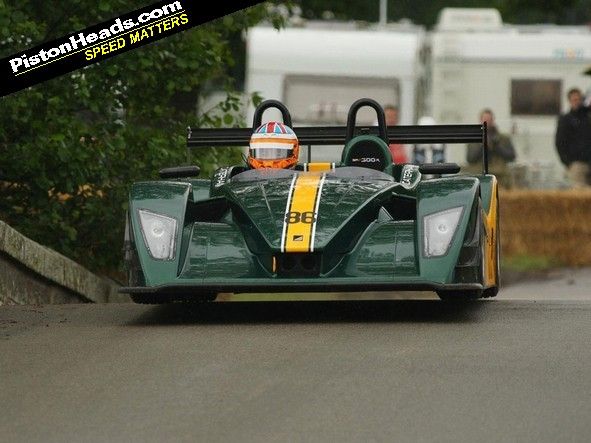 The new
Caterham SP300 R
has posted the fastest-ever run for a car at the Cholmondeley Pageant of Power over the weekend, setting a best time of 61.89 seconds.
The previous best time was 62.68 seconds, set by a Lamborghini Gallardo LP 570-4 Superleggera in 2010. Of course, you would expect Caterham's newest model to perform well at such an event, given that it is so track-focussed it isn't road-legal, has a power to weight ratio to equal an LMP2 Le Mans car and runs on full F3-spec slick tyres...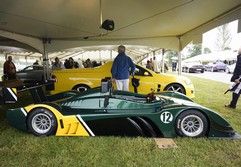 The fastest car sporting number plates and a tax disc was
the BAC Mono
, although with 63.06 seconds being its fastest time it didn't quite beat the 2010 Lambo run. It did make the Mono quicker than rivals from Radical (an
SR3 SL
did a 68.71 second run) and Ariel (whose
V8 Atom
ran a best of 70 seconds flat).
But while the Atom V8's time might seem a little tardy, its Toyo tyres (Atoms normally run Yokohama AO48s, but they aren't rated for the V8's 170mph top speed) proved less grippy than the bespoke Kumhos on the Mono, especially on a slightly damp and dirty track. And before we're accused of Atom favouritism, the same V8 completed a 66-second run last year. With a completely dry weekend, we could have expected the battle between the British lightweights to be much closer...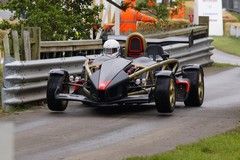 Other notable times included that of a Nissan GT-R (just 64.99 seconds, third fastest of the road-legal cars and quicker than a Ferrari 458 Italia) and the Porsche 911 Carrera S, which came within two tenths of the Radical's time (68.86 vs 68.71 seconds respectively).
The fastest time overall went to Andy Mitchell on a Husaberg FS 650 bike, who managed to ride the 1.2 miles in just 60.93 seconds.