Tuesday 3rd July 2012
ELECTRIC GOODWOOD RECORD FOR DRAYSON RACING
B12/69V Le Mans prototype showcases new tech and 850hp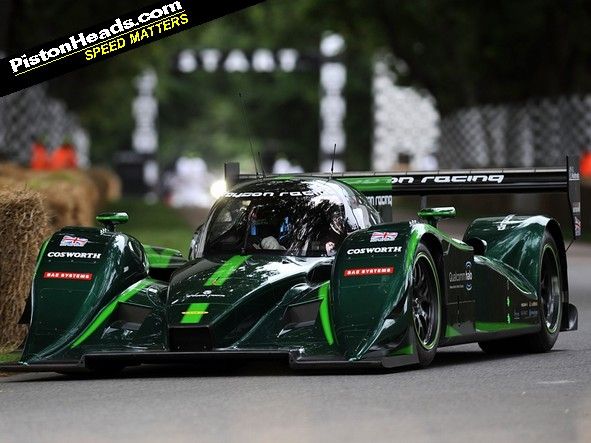 A Le Mans prototype built by Drayson Racing Technologies recorded the fastest time for an electric car up the Goodwood hill at the weekend. The B12/69EV, piloted by Drayson MD Lord Paul Drayson, recorded a 53.91-second run which was quick enough to make it the 11th fastest car at the Festival of Speed hillclimb (and
no doubt somewhat quicker than Riggers...
).
but while this isnít as fast as you may expect from an 850hp prototype racer, some interesting technology features on the B12/69EV.
One of its innovations is electrical regenerative damping. Similarly to regenerative braking, it harnesses the energy produced by a working component of the car to create more electricity for the drivetrain. In the Draysonís case, this will be through the dampers, utilising the thousands of movements they make dealing with road surfaces to produce energy. Moreover, this should not compromise the driving experience in a way that regenerative braking can; cars equipped with it can feature a brake pedal that makes judging stopping power difficult. As damping doesnít require a direct input, Draysonís system should allow for the regeneration of electricity without any drawbacks.
The B12/69EV is also equipped with inductive charging capability. This allows the battery to be boosted through charging patches on the floor, saving time over it being plugged in. Drayson plans to compete in the FIAís new Formula E championship (starting next year) in which four fifteen-minute sprints will be separated by recharging periods of half an hour. This naturally places the emphasis on fast battery charging, so the B12/69EV should excel here.††
Finally, whilst Drayson is understandably very proud of its new technology, it hasnít explained its naming strategy. Weíre assuming ĎEVí stands for electric vehicle but, as for the rest, your guess is as good as oursÖ