Tuesday 3rd July 2012
SPOTTED: RENAULT MEGANE R26R
Turbo power and odd looks of New Clio RS doesn't mean it won't be a stunner - the R26R is proof of that...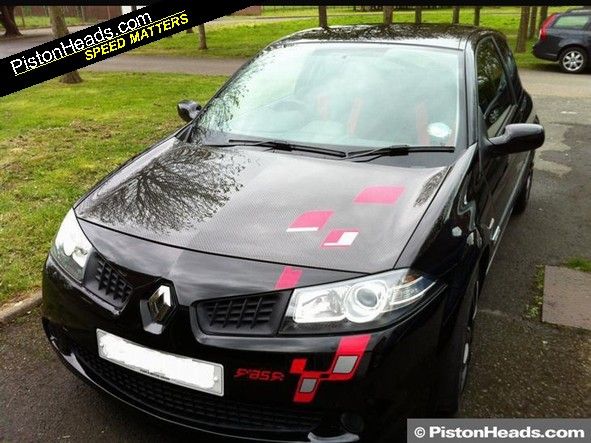 Itís probably fair to say the
Renaultsport Clio has not gone down well
. Many a PHer is aghast at the prospect of a five-door RS Clio and there is much bemoaning of the inclusion of a turbocharged powerplant. It doesnít look like a small, chic French beauty, either.
But when have these concerns ever stopped Renault making a world-beating hot hatch? OK, so this Spotted is a three-door (and a two-seater, moreover) but a Megane R26.R certainly strikes a big cross through the turbocharged and not-conventionally-attractive boxes.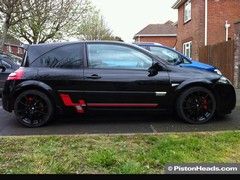 Black-on-black subtle, but who sees the carbon?
While its claim to being the fastest front-wheel-drive car at the Nurburgring has been usurped by the newer 265 Trophy Megane, the R26.R remains an iconic performance car, and used values still reflect this. Shorn of 123kg and fitted as standard with polycarbonate windows, a roll cage and a carbon fibre bonnet, the R26.R was as uncompromising as the new Clio appears accommodating.
To launch such a focused machine was a hugely brave move by Renault, which ultimately didnít pay off. Despite a hugely positive press reaction and sub-£25k price, the R26.Rs restrictive practicality combined with economic meltdown to apparently leave Dieppe with unsold units from a 450-car run.
The UK was allocated 230 of the 450, and howmanyleft.co.uk reveals that just 73 are on the road in the UK. The example weíve picked out, interestingly the only R26 Ron PH forless than £15K, is fairly typical of the breed. It has had few owners who have used it sparingly but kept it well. It does lack the titanium exhaust but this is a very rare option as it cost more than £2,000 new. This car also makes do without a radio; the fact it was relegated to the options list really reflects the R26.Rs hardcore nature.
Moreover, this R26.R comes with four winter tyres to supplement the standard Toyo R888s so it can be used in all weather. This one also still has its original Nurburgring gift pass, and what better car to go chasing far more prestigious metal in?

---
RENAULT MEGANE R26 R
Engine:1,998cc, inline four, turbo
Transmission:6-speed manual, front-wheel drive
Power (hp):230@5,500rpm
Torque (lb ft):229@5,000rpm
MPG:33.2
CO2:199g/km
First registered:2008
Recorded mileage:19,000
Price new:†£24,040
Yours for:†£13,995
| | |
| --- | --- |
| Radio option went unticked on this car | Cage and buckets standard on R26Rs |