Thursday 5th July 2012
PISTONHEADS SUNDAY SERVICE: 22/07/12
Join us at Vauxhall HQ and Heritage Centre for the next PHSS meet
The PistonHeads Sunday Service returns to UK soil after a one month absence due to the Friday Service being held in Le Mans, and we have a brand new host and venue for our comeback.
On
Sunday 22nd July
we'll be pointing Luton-bound as Vauxhall UK opens the doors to a Sunday Service packed with things to see and do - the GM team have literally pulled out all the stops to make this one of the best-supported meets yet.
We'll be based around their excellent Heritage Centre situated in the shadows of Vauxhall's UK HQ, with space available for 400 cars and the usual supply of breakfast items to provide the sustenance needed for an early start.
In addition to the 400 PHer cars on display, we'll also have a host of new and classic Vauxhall models on show, ranging from cars you have always wanted to cars your Dad might have owned.
Over 70 display cars will be on show with notable highlights including:
Red Victor drag car
1980 Cavalier 2.0GLS
2001 Astra 888 Coupe
1984 Astra GTE
1975 HPF Firenza
1993 Lotus Carlton
1959 PA Velux
1903 5HP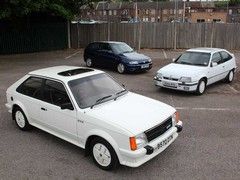 In addition you'll be able to see classic commercials, Motorsport cars and the entire VXR range, from the VX220 to the latest Astra GTC. If that wasn't enough there will be remote control cars to enjoy too.
As per usual, the Sunday Service congregation will gather at 09.00 and will be unceremoniously kicked out at 13.00. Entrance is free, so all you need to worry about is bringing enough cash to buy a spot of breakfast.
Spaces are limited to 400, so to reserve your place please head to the PistonHeads Calendar and get your name down quick-smart.
We do operate a 'no name, no entry' policy at these events, so please only make the trip on the day if you are on the main list of 400; those of you who end up as reserves will need to wait until you appear on the main list to be guaranteed a space.
Vauxhall HQ can be found at the following address:
Griffin House, Osborne Road, Luton. LU1 3YT
. Please note that you will need to pass Griffin House before turning right at the T-junction to enter the Sunday Service car park from
Park Street
(20mph limit, so be careful). Signposts will guide you from Griffin House, but it is literally around the corner from the main entrance.
Thanks to all at Vauxhall HQ who made this possible, we know a lot of effort has gone into arranging this meet and we can't wait to see the results.
Previous PistonHeads articles on the Vauxhall Heritage Fleet can be found here and here