Thursday 5th July 2012
PURITALIA 427: AC COBRA MEETS ITALIAN STYLE
Start-up sports car company aims to recreate the AC Cobra idea, but this time with sharp Italian tailoring
We'll back anyone brave enough to build his own sports car, particularly if it looks as good as the Puritalia 427.
The Naples-based start-up behind the car had the admirable idea of marrying Italian design to the brutish AC Cobra to create what it calls a tribute to the Anglo-American muscle roadster.
That name is taken from the 427 version of the Cobra from 1965 and the two share a connection in that the Italian will have a Ford V8. This isn't 427 cubic inches (seven litres) but a 5.0-litre unit from the Mustang making 445hp in standard form, or 605hp with a supercharger bolted on.
The chassis and body will be built from scratch using an aluminium semi-monocoque shell with carbon fibre body parts and tubular steel subframes.
So far so good, but who is this Puritalia and do they have chance of making the 2015 launch date? Or ever producing a car? The driving force and money behind it is muscle car fan Paulo Parente, owner of an IT company in Naples.
Speaking to PistonHeads, he said he's owned many of the classic American muscle greats, including an original Dodge Challenger with the Hemi V8 and a replica of the Cobra 427, and wanted to distill their might and simplicity in a new car.
"My idea is to have a modern interpretation of the Cobra," Parente says. "Leaving all the pure driving experience, but at the same time making it more comfortable and, as we are an Italian company, more elegant."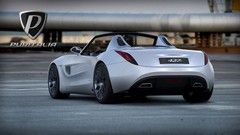 The design is certainly that. It's the work of talented 28-year-old Fabio Ferrante, an Italian who has worked on projects for Fiat and has a sideline in speculative design of cars for the pure love of it. He was the guy that created the Saab 9-1 renderings that got a lot of exposure when the company announced it would create a small car on the Mini chassis.
When - if - it goes on sale, Parente reckons it'll cost £90,000-110,000 and compete against cars like the Morgan Plus 8.
He knows he needs to target the UK enthusiast market and demonstrates he understands it with a comparison to TVR. "I know TVR - I have to say that the spirit of the company is very similar to us. Probably I prefer to spend more on the design phase and styling, but the technology and drivetrain, they are very comparable," he says.
The car will be built in Naples using outsourced elements such as Brembo brakes and Recaro seats, but the chassis is being created in-house. We're not going to hold our breath on the appearance of a finished product, but we wish them every success anyway...