Tuesday 10th July 2012
PH ADVANCED PHOTO SESSION: 21/07/12
Three spaces left for the next PistonHeads photo session.
PistonHeads HQ just so happens to be perched on top of the
best photography studio in SW London
, and with such good fortune it seemed only right that we run a series of photography sessions with a pro-snapper teaching the art of car photography to a group of PHers.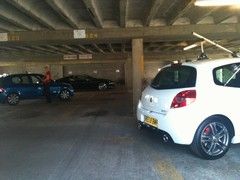 For a few years now, PH has welcomed readers into the studio where we teach basic studio photography using readers cars. More recently. we have ramped it up a gear and now venture outside to teach more advanced techniques. on
Saturday Juy 21
we'll run another of our advanced sessions using rigs and clamps as well as focussing on remote work and location lighting.
The session will start at 09.30 and during the morning we'll use rigs to capture moving shots using your own cars, before using the Haymarket Studios site to shoot 'on location' where we will teach outdoor lighting and how to choose the perfect location for a shoot. There are plenty of covered areas at the studios, so the session will not be affected by bad weather.
After lunch (included), we will open the studio doors and guests can choose whether to continue shooting outside or to move into the studio where we will teach basic studio techniques before wrapping up the session at 17.00.
This course does require a reasonable amount of photography knowledge, as it will be more fast-paced than our other sessions and, as we aim to teach a lot in one day, the group size is reduced to just eight people.
We have three places available on this session, charged at £200 per person. If you would like to attend, or if you have any questions, please contact us by email.