Tuesday 10th July 2012
DE TOMASO GOES BANKRUPT
Almost-reborn sports car maker goes belly-up (once again)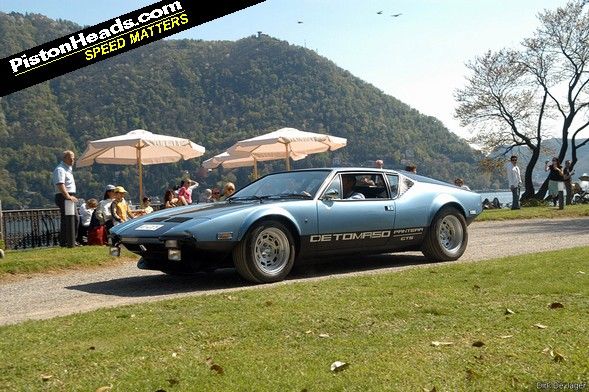 A reborn Pantera will have to wait (again)
De Tomaso has gone bankrupt (again), after failing to raise the cash to build
the three-car range announced last year
.
Unless a buyer can be found, it looks certain to bring to an early close the latest chapter in the Italian sports car maker's volatile history after the company was revived in 2009.
Deauville SUV wasn't the prettiest
The Italian buyer had promised sink £92 million into restoring the brand famed for its Mangusta and Pantera muscle coupes of the sixties and seventies.
The rebirth started well. De Tomaso rented a factory off Pininfarina to build its planned 8000 cars, split between a coupe, a saloon and a crossover. The latter, called the Deauville, made its debut in concept form at the Geneva motor show last year with the promise of petrol V6 turbo power and blandly attractive looks.
It was a mainly positive rebirth for a brand that had last appeared at Geneva in 2002 with a revived Mangusta, aka the Bigua. This unhappily proportioned car was eventually rebadged Qvale after American investor Bruce Qvale squabbled with company founder Alejandro de Tomaso.
It looked a lot better after MG took over the Italian operations in 2001 and restyled it as the SV. Unfortunately, we all know what happened then. De Tomaso itself went into liquidation in 2004.
MG SV was fruit of a previous incarnation
The company was originally born when Argentine-Italian racing driver Alejandro De Tomaso set up shop in Modena in 1959, four years before Feruccio Lamborghini opened for business just down the road.
The first road-going sports car, the Vallelunga, was powered by a 1.5-litre Ford Cortina engine, but for the stunning Mangusta (Mongoose) and Pantera (Panther) that followed, the company turned to Ford V8s from the States.
Super-salesman Alejandro even managed to persuade Ford to stock Panteras in its US showrooms from 1971, but the dramatic coupe was heavily criticized for its safety standards and Ford pulled the plug in 1974. The cars continued to be built right up until 1993, however, and it remains a performance icon.
As for the badge, it is surely far too steeped in marketable heritage to die. Before the bankruptcy, a Chinese investment group called Hotyork was in talks to buy De Tomaso and, as we've seen with MG and Saab, the Chinese do prefer to wait until after the firm has gone into administration...