Thursday 12th July 2012
BUGATTI TYPE 51 RACER TO GO TO AUCTION
...but is this barn-find Bugatti real or a rep?
A rare Bugatti Type 51 Grand Prix car found mouldering in a Worcestershire garage is to go under the hammer at Brightwells in Leominster on 26 September.
As barn finds go, discovering a GP-winning Bugatti is pretty mighty, and one apparently driven by the exotically named Count Stanislas Czaykowski to victory in the 1931 Casablanca GP is more awesome still.
The car itself was discovered behind a gaggle of 80s motors, having lain unused for nine years in a derelict garage.
There is significant uncertainty as to whether it's the real deal, however, with a Bugatti expert suggesting it might be a replica, albeit one using large parts of an original Type 51 chassis.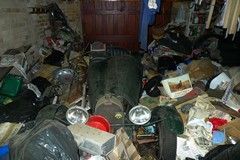 Our colleagues on
Classic & Sports Car
, on whose website we spotted the story, reckon that if it is the real deal it could easily fetch £1.5 million, though they agree that it does seem likely not to be an original. In which case, the swap that previous owner Alan riley made for the Bug - a 1931 Alfa Romeo 8C 2600 and a 1954 Maserati 250F - seems liek a pretty poor deal...