Tuesday 24th July 2012
YOU KNOW YOU WANT TO: CARVER ONE
It tilts ... what's not to like, other than spilling your drink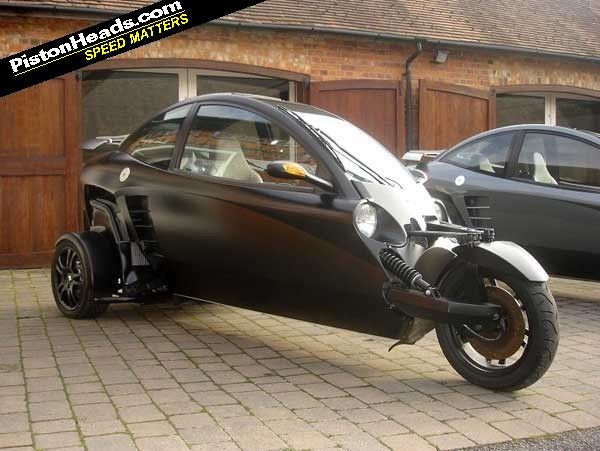 Not for shrinking violets, this one. Hailing from the Netherlands, but created with a little help from our own Prodrive (who had previous form with tilting vehicles with its
2005 'Naro' concept
), the
Carver One
is a bizarre but brilliant car-cum-bike-cum-fighter plane crossover.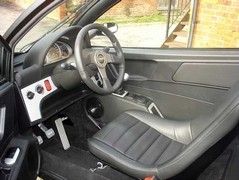 Like a bike on the inside but a wheel, not bars
It's moderately brisk, with 0-62mph taking just over eight seconds and a top speed nudging 115mph, but the Carver's real party trick is its dramatic ability to lean, bike-style, when cornering. Its cabin is controlled independently of the vehicle's running gear via a hydraulic damper. The quicker the driver turns the wheel, the more extreme the angle of lean. A series of lights on the instrument panel progress from red to green to let you know how far you're tilted. Maximum lean angle is 45 degrees, which sounds like a challenge if ever there was one.
The Carver stays upright at slow speeds so that you don't get seasick while parking but above 7mph the hydraulic tilting system becomes active. It can move quickly too, leaning the body automatically at up to 80 degrees per second. There's also space for a co-pilot under the fighter jet-style canopy, with a passenger seat positioned in tandem behind the driver.
Bike thrills, hopefully not the spills
The rear wheels are driven by a turbocharged four-cylinder 659cc engine generating 69hp whilst a motorcycle wheel takes care of steering at the front.
There aren't many about – around 200 Carver Ones were made between 2006 and 2009 before the company filed for closure. With a list price approaching £30,000, an expensive (albeit rather wonderful) toy such as the Carver wasn't able to survive the recession. Seems it holds it value well though, with the example we've found for sale here advertised at £32,995.
You're just a little bit tempted aren't you? Alternatively, you could save a bundle of cash and try your hand at a tilting vehicle of the two-wheeled variety.

---
CARVER ONE
Price: £32,995
Why you should: Excellent for doing Valentino Rossi impressions without getting wet – or falling off
Why you shouldn't: Not exactly cheap for a toy
See the original advert here.