Tuesday 7th August 2012
HOT ROD PEDAL CARS MARK 80TH BIRTHDAY OF '32 FORD
Classic hot rod fodder gets pedal-car homage from some of the US's best custom shops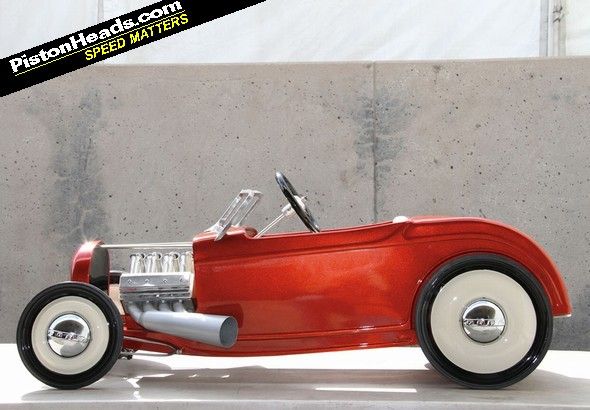 If you're a fan of cars (and if you're reading this we hope you are), it's quite likely that you are also fond of kids' pedal cars - possibly even whether you have nippers or not. To which end,
these nine slinky foot-powered beasts
probably hold a fair bit of appeal.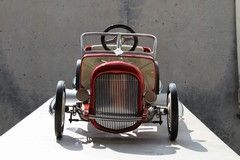 They've been created to celebrate the 80th anniversary of the '32 Ford 'Deuce', the car which later became the quintessential hot-rodder's car.
Which is why these Deuce pedal car creations were designed and built by a different US hot-rod builder. Each shop started with an identical 1932 Ford Roadster pedal car built by Warehouse 36 and set their most fevered imaginations to work, ending up with the cars you see here.
They will be on display initially at the Petersen Automotive Museum in LA (6060 Wilshire Boulevard if you're ever in the area), before being sold off throughout 2012 and 2013 at various auctions to help fund a programme to bring underprivileged kids to the museum for a day out.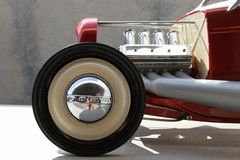 The cars, the work of Rad Rides by Troy, Steve's Auto Restorations, Hollywood Hot Rods, H&H Flatheads, So-Cal Speed Shop, Winfield Rod & Custom, Rolling Bones Hot Rod Shop, Fastlane Rod Shop, and the students of McPherson College Automotive Restoration (and breathe), are all absolute peaches, but we do have a couple of favourites.
Top of that list is probably the work of Hollywood Hot Rods, whose creation accurately mimics the proportions of a real '32 Ford Roadster (main images), and the sleek Bonneville Speedster-inspired work of Rad Rides by Troy (first three images in the table below).
The first few cars go under the hammer at the Pebble Beach RM auction in Monterey on 18 August and you can find out more about the pedal-powered rods on the Petersen Museum website.