Thursday 9th August 2012
CHRIS HARRIS NEEDS YOUR HELP!
Monkey has got himself involved in a competition with some Americans and needs PH's help to win...
The Chris Harris videos we host here on PistonHeads every week hail from
YouTubeís Drive channel
, based over the pond in the US. Only here on PH do you get them accompanied by Chrisís words though. So make sure you call by here every Wednesday night to see the
latest instalment
.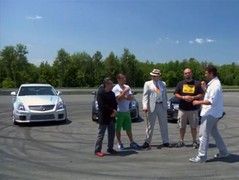 Chris and the Drive presenters prepare for battle
Meanwhile Chris needs your help to get one over on his fellow Drive presenters. Basically we need to mobilise the entire weight of PistonHeads' 20 billion strong audience (if Chrisís maths are right on that score it should be an easy victory, publisher Stuart wishes it were so) to help him triumph in a competition organised by Drive editor J F Musial in which the four presenters were given two minutes, a camera and a Cadillac and tasked with making YouTube gold. The video with the most views at the end of the week wins, to its presenter the as yet unspecified spoils of victory. Battles donít get much more epic than this. Itís Britain versus America. PistonHeads versus the world. Time to tap into that Olympic spirit and give Chris your support to help him cheat. Sorry, win.
How do you do this? Well you can watch the intro video here explaining how it works. And then you can watch Chrisís video, complete with a slightly muffled cameo by my good self. What you absolutely cannot do after that is watch the other videos by Leo Parente, Matt Farah or Alex Roy. Unless you then go and watch Chrisís video five times over again to claw back a winning advantage. Which, given that it would mean seeing him in those green shorts again, you donít want to do. Once is definitely enough on that score.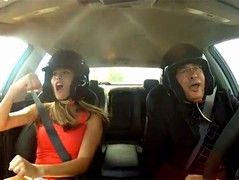 Don't be swayed by the Americans' cheap tactics!
No matter that both Parente and Roy attempt to woo you with glamorous women including, in the formerís case, someone called Andrea Feczko. Sheís apparently a big deal on the internet but you can probably find her videos elsewhere on the web, should you so wish.
What you do in your own time is a matter for you. For now itís time to rally behind Chris, watch his video and tell everyone you know to do the same. Weíre behind you Chris Ė a win for Harris is a win for PistonHeads!
†
---
†