Monday 20th August 2012
850HP MUSTANG TRIBUTE TO CARROLL SHELBY
'Friends of Carroll Shelby' unite to create one-off supercharged Mustang special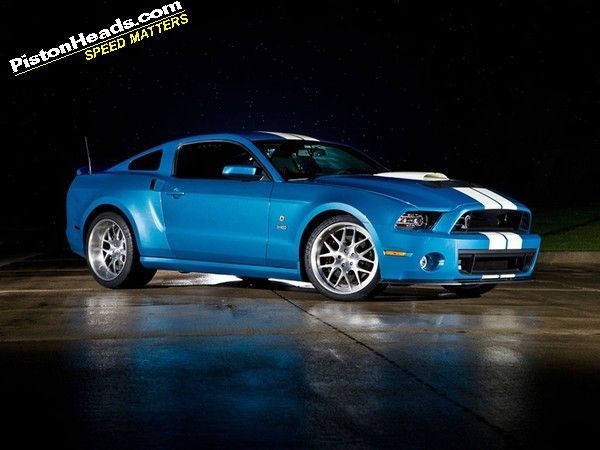 Plenty of interesting metal has been unveiled at events in and around the weekend's
Pebble Beach Concours d'Elegance in California
and amongst them was this monstrous one-off Ford Shelby GT500 Mustang.
Created as a tribute to the late and very great Carroll Shelby, the car has been put together by 'Friends of Carroll Shelby', a collection of companies including the Ford Motor Company and Shelby American. Created to coincide with the 50th anniversary of the Shelby Cobra, the show car is based on a 2013 Shelby GT500 (itself not short of power at 662hp). A Ford Racing Whipple supercharger ups the tribute car's power output to 850hp.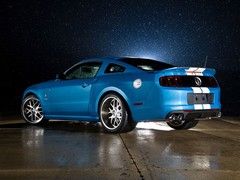 GT500 tribute wears 13-inch rear tyres
Revealed at the Monterey Motorsports Reunion, the tribute car also features an extra-wide body kit with a bespoke bonnet design, finished in traditional Cobra blue'n'white striped paintwork. It also features upgraded brakes (probably not a bad idea with all that power) and new 20-inch wheels - a whole 13 inches wide at the back.
"Even at 89 years of age, Carroll was an inspiration to us all," says Ford's marketing and sales vice-president Jim Farley. "The one-off car we have created represents the very idea he had about making the 2013 Shelby GT500 into a true Cobra."
Shelby's active philanthropy was referenced at the Mustang's unveiling, together with the announcement that the car will be taken on a tour around the States before being used in "a special way" at the tour's end, leading to speculation that the car may ultimately be auctioned for charity.
In an additional tribute to the great man, Ford has renamed the road leading to its Product Development Centre proving ground in Dearborn as Carroll Shelby Way. The tribute seems fitting, given that at the age of 88 Shelby reportedly spent over five hours racking up miles behind the wheel of the most powerful Shelby Mustang yet at various proving grounds as part of its final development.