Wednesday 22nd August 2012
435HP G-POWER BMW 1M COUPé
Gee, that's a lot of power, etc ... but it comes at a bit of a cost.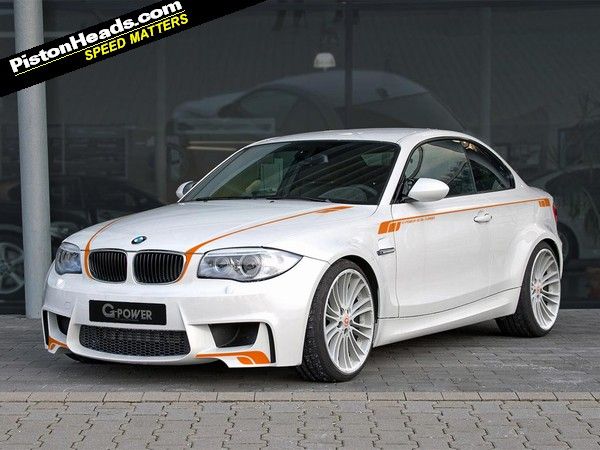 Beyond the mild orange striping and 20-inch wheels, this G-Power BMW 1M looks relatively subtle for a tuner that, amongst other things, has previous gifted the world an X6 fitted with a 900hp twin-supercharged V10.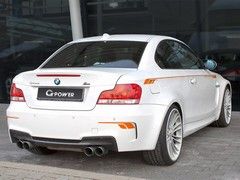 Relatively - relatively - subtle work from G-Power
We strongly suspect it doesn't feel that tame from the inside. For while the 1M's familiar 3.0-litre turbo remains under the bonnet, G-Power has modified the plumbing going in and going out, then added a custom engine management system. 435hp and 435lb ft is the result.
Not only is that significantly more than the standard 340hp and 369lb ft - enough to see the 0-62mph time drop from 4.9 seconds to just 4.5 - it also means the little 1er is 15hp and a massive 144lb ft up on the current M3. Can't imagine it lacks for in-gear punch.
Grip on the other hand...
To that end, G-Power offers its own fully adjustable suspension set up, and those 20-inch Silverstone Diamond alloy wheels - wrapped in 295-section Michelin Pilot Sports at the rear.
Helping you get some of the unsprung weight back it even has a ceramic option for its six-piston brake upgrade, which is said to literally halve those pesky rotating masses.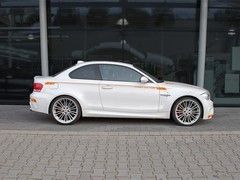 Standard 1 M not cartoonish enough for you?
Other fancy-pants kit includes the aforementioned plumbing - featuring flow-optimised downpipes, improved cooling and a titanium exhaust. We like the sound (cough) of the latter especially, as it's 20kg lighter than stock and has a remote controlled valve to bypass the silencers. "Racing levels" of noise, apparently.
Fancy one? Sure, us, too - but perhaps you'd better check with your bank account. A rough translation from the Euros suggests the engine work (including the exhaust) is a reasonable sounding £8,000. But if you want the lot it's more like £33,650 - with the ceramics alone over £20K.
And none of that pricing includes fitting. The old phrase "good at twice the price" springs to mind - but even with 435hp is the 1M really going to be that impressive? Your call.